Art by Julia Wimmerlin, K-Syran & Dan Thomas
Katrina Syran wrote to knowitall.ch, "I'm organising for the children in Ukraine a concert in the old town of Geneva 7th of October. There will be 17 amazing artists performing. Ukrainian pop star, DJ electric violinist, pianists, rock singers, violinists, opera singers etc. Also it lasts only 1h20 so people can go for dinner after!"
The International Concert in support of Ukraine and the Ukrainian people will take place in Geneva. Many musicians willing to support Ukraine will perform on the stage in the historical heart of Geneva as a gesture of solidarity with those standing against aggression. There will be a rich, diverse and exiting program with classical, rock and pop music, Ukrainian pop star, DJ electric violinist, pianists, rock singers, violinists, opera singers, etc.
Before and after the concert there will be an opportunity to purchase Ukrainian crafts and souvenirs. All proceeds from the tickets, crafts sales and any donations raised will be managed by the Association DETI and the Geneva Branch of the Ukrainian Society in Switzerland.
Join the concert to stand in solidarity with Ukraine and to stand for peace.
We asked Katrina a few questions and hope to raise awareness for this worthwhile cause.
What has been the inspiration?
I feel this is so close to us all. Now with the news this week I also feel it's even more relevant than ever! We all wish for peace! So what better way than through music. Music touched us all and makes us all come together.
I recently put on a concert for the children from Cambodia and Irina Chkourindina played the piano of course, we have done a few events together. She came up with the idea and here we are!
Julien Laurence, César Correa, Lionel Fornetti
What are your plans for the future?
To continue to raise awareness where it's needed, through my music, acting, production, writing, creation.
Sergey Ostrovsky, Ksanti, Helixy
What is your favorite musician or singer in the concert and why?
I can't want to hear the electric violinist, Helixy! I love dance music as I'm a big fan of Ibiza and many of my songs are remixed by amazing remixers.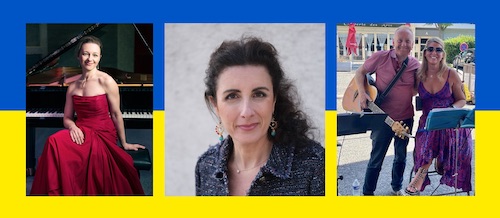 Irina Chkourindina, Sophie Graf, Julie Jensen & Ludo
Anything else you think our readers would like to know.
So grateful to every performer supporting the cause and so happy the organisation, DETI, is doing such wonderful work!
The organizers and myself would love to thank La Salle Centrale de La Madeleine, Norwegian Consult Rolf Espen Ørfeldt Olsen, H.Hentsch Asset Management, My Sleeping Gypsy, Three Graces London, and Intimacy Records for their support.
INTERNATIONAL CONCERT IN SUPPORT OF UKRAINE
Friday, 7 October 2022
19h
Rue de la Madeleine 10
1204 Genève
Fr. 30.-/ticket
All proceeds from the event will be donated to DETI
TICKETS: https://lnkd.in/eYkahXz4
The DETI association
www.detinow.ch
The DETI association was created in 2017 by Ukrainian expatriates in Switzerland with the aim of supporting the younger generations of Ukraine: children and teenagers in their transition to adulthood. Since February 24, 2022, Ukraine and its citizens are now caught in the turmoil of war. In order to support the country, we have set up a cooperation platform with the Ukrainian diplomatic representation in Switzerland as well as with a number of Ukrainian aid organizations. We are now focusing our efforts on humanitarian aid, in particular the provision of essential medical supplies. The integration of Ukrainians seeking refuge in Switzerland is also one of our priorities. Please send us an email at This email address is being protected from spambots. You need JavaScript enabled to view it. to request your donation certificate.
Ukrainians In Geneva
www.ukrainian-diaspora-geneva.ch
Our mission as of 24 February 2022: We are ​helping Ukrainians in the country and those fleeing from the war. Since the start of the full-scale war of the Russian Federation on Ukraine, we have rolled out humanitarian aid collection, transport of humanitarian aid to Ukraine, refugees support, fundraising and organization of volunteers on the ground.