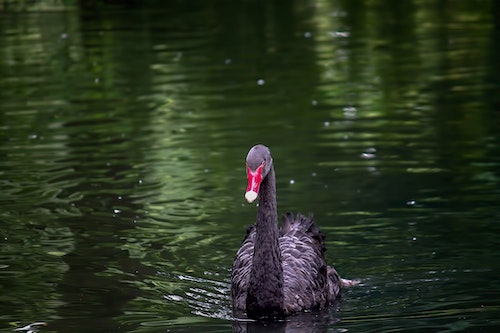 Photo by David Floyd from Pexels
Have you ever heard the expression, "A Black Swan Event"? It signifies an unpredictable or unforeseen event, typically one with extreme consequences. The black swan theory is a metaphor that describes an event that comes as a surprise, has a significant impact, and is often inappropriately rationalized after the fact with the benefit of hindsight. The theory was developed by Nassim Nicholas Taleb.
In the 16th century, the expression "black swan" was part of everyday language, referring to an impossible event, since all swans are white. Thus, looking for a black swan was as futile as going on a wild goose chase or looking for a needle in a haystack. At that time, all swans were indeed white in Europe.
The catching of black swans in Europe in the eighteenth and early nineteenth centuries brought the birds into contact with another aspect of European mythology: the attribution of sinister relationships between the devil and black-colored animals, such as a black cat. Black swans were considered familiar to witches and often hunted or killed by superstitious people. This may explain why black swans never established a significant presence as wild animals in Europe or North America.
Black swans do exist and you may have even seen one yourself. They originally come from Australia and Tasmania, but many parks and zoos around the world have introduced these beautiful creatures to their fauna. Here are a few places where you might see one or two!
Photo by Anthony from Pexels
Parc de l'Étang, Vernier, Canton of Geneva
One very small public park near Balexert, Parc de l'Étang, has a few black swans, and if you are lucky, they will make an appearance the day of your visit. Le service des espaces verts Vernier takes care of animals in semi-freedom (ducks, geese, black swans, peacocks) and animals in cages (chickens, ferrets, rabbits). Some of the species at this park are protected by ProSpecieRara, the Swiss foundation for the preservation of endangered breeds of farm animals and plants.
The park boasts a small playground for the kids. The Park de l'Etang is accessible for people with reduced mobility.
Faune Genève
A website dedicated to sightings of rare fauna in and around Geneva, Faune Genève, reported a black swan at Aire-la-Ville on 8 September 2021 and then at the Barrage de Verbois from 9, 10, 11, 13 and 16 September 2021. You many also contribute any sightings you find to this association once you join.
The project has been developed by the association Faune Genève (FGE), with the support of the Office Cantonal de l'Agriculture et de la Nature (OCAN) and the Natural History Museum of Geneva (MHNG). In order to improve naturalist knowledge and to allow a better protection of biodiversity by developing adapted researches, FGE puts at the disposal of private observers, naturalist associations and other partner structures an interactive website.
Morges black swan sighting
RTS Radio Télévision Suisse, talked about a black swan on the Morges lakeshore during the summer 2021 at this link. They explain that they don't know where this one is from and hoping it has been tagged. This way the swan will be rehomed into a zoo, private property, or into its original home. Normally, this type of swan is not found in Europe and is not used to living in a colder climate as our white swans do.
Nyon's Musée du Léman: Le Lac du Cygne
Le Lac du Cygne exhibit that will take place from 23 September 2021 for one year, is all about the importance of the local swans to our Lake Geneva. It is being held at the Musée du Léman in Nyon. Read our previous article about it at this link. It is about the white swan but you will learn all there is to know about the other species as well. How did the beautiful bird become the most photographed bird on the lake? Why has this large bird adapted so well to the shores of Lake Geneva? With its majestic silhouette, the way it glides over the water, and its majestic appearance, it embodies purity, love, and fidelity. A caring parent and a perfect companion, this bird is gifted with all these virtues and is loved by all, or almost all.
Don't feed bread to the ducks and swans
We all have brought our old bread to feed the ducks and swans on the lake. Who remembers doing this. The problem that bread is not the natural food for swans, they eat aquatic vegetation, eaten while swimming, such as underwater plants and algae.
In the winter, you can bring dark green lettuce, spinach, shredded carrots, celery and alfalfa sprouts and other vegetables and greens. Chop the vegetables into small pieces as they don't have teeth. Throw onto the surface of the water so that they can swallow some water with the food and encourage them to stay away from the shore where they might be targeted by dogs or traffic.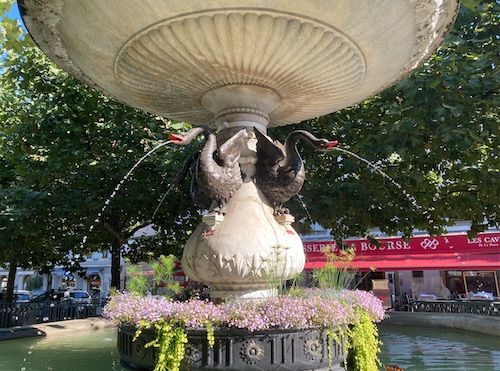 Photo of the fountain Place du Marché in Carouge - Lisa Cirieco
ProSpecieRara Suisse Romande
c/o Conservatoire et Jardin Botanique de Genève
Chemin de l'Impératrice 1 (CP 71)
1292 Chambésy
022 418 52 25
This email address is being protected from spambots. You need JavaScript enabled to view it.
www.prospecierara.ch/fr.html
Vernier Espaces Verts
http://www.vernier.ch/fr/culturesportetloisirs/loisirs/espacesverts/welcome.php
Faune Genève
This email address is being protected from spambots. You need JavaScript enabled to view it.
www.faunegeneve.ch
RTS - Radio Télévision Suisse
www.rts.ch
Musée du Léman
Quai Louis-Bonnard 8
1260 Nyon
022 316 42 50
www.museeduleman.ch
Le Lac du Cygne!
23 September 2021 through 18 September 2022
Vernissage open to all on 23 September 2021, 18h30
Museum open Tuesday to Sunday and holidays
April to October: 10h-17h
November to March: 14h-17h