To give you an idea of some of the spectacular places you can visit in this region, we will feature each month a photo of one of its many great locations. Since we rely on recommendations, please send us your special photo taken, for example, on a memorable day out at a water park or from a remarkable viewpoint in the area.
Alpe D'Huez
www.alpedhuez.com
by Jenny Jeffreys
Since we're still in the heart of Winter, we couldn't resist choosing another ski resort for this month's Location of the Month. However, if you're not a keen skier, this resort still has plenty to keep you busy!
Situated just beyond Grenoble in France, about 2 and a half hours drive from Geneva, Alpe D'Huez is situated on the sunny, south-facing slopes of the Grandes Rousses massif, which can enjoy up to 7.5 hours of sun in December and 11 hours of sun in April – in fact an average of 300 sunny days per year. On one of those fine days, apparently you can see a fifth of France from the top of Pic Blanc (3300m)!
Linked to 250 km of ski runs, including the famous 16 km, world's longest Sarenne ski run, the resort has plenty to offer skiers of all levels. According to the Alpe D'Huez website, British Masterclass provides English ski instruction in small groups or privately. Contact Stuart Adamson for more details (email:
This email address is being protected from spambots. You need JavaScript enabled to view it.
, tel: +33 (0)6 79 67 34 56, website:
www.masterclass-ski.co.uk
)
However, if you're looking for more than just a weekend away skiing, then the Visalp forfait may be the most cost-effective way for you to take full advantage of all that Alpe D'Huez has to offer.
In addition to giving you access to the Alpe-D'Huez Grand Domaine ski area, it provides you with free access to more than 30 activities, including:
• Night time skiing (until 24 March)
• Night time sledding (until 24 March)
• Cross-country skiing
• Alpe D'huez. Oz or Auris skating rinks (equipment hire extra)
• 2 heated swimming pools (indoor, and open-air!)
• Vaujany Wellness Centre
• Numerous activities at Alpe'D'Huez's ultra-modern Sports and Convention Centre, including martial arts, rock climbing, badminton, squash, table tennis, archery, crossbow, fitness (weights, stretching, step, body sculpting, abs and glutes, aquagym, hip-hop, etc.), football, basketball, handball and volleyball (equipment hire extra)
• Huez and Oisans Museum
• Thursday evening concert at the Notre-Dame des Neiges church (2 euros contribution)
Click on the following link to see the price options for this pass:
Visalp pass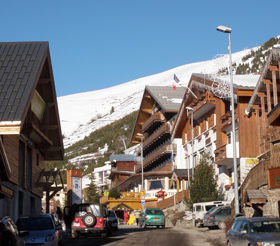 For a truly relaxing stay in a small, personal hotel, the
Hôtel Le Castillan
is strongly recommended. Now run by Julien and Stéphanie, this hotel was one of the first hotels to open in Alpe D'Huez back in 1955, and ownership has remained in the family ever since.
The 40 rooms are very comfortable (with free wifi) and there is a spacious lounge in which to relax before dinner. When we went to stay, the half board option was extremely good – a mixture of self-service and waiter service provided over four delicious courses!
Whilst we didn't have time to test out the facilities in the basement, we did spot a sauna, steam bath, gym and massage lounge that would have proved very relaxing had we been able to stay longer!
For further information on the hotel, visit the website
www.castillan.fr
, email
This email address is being protected from spambots. You need JavaScript enabled to view it.
or telephone +33 (0)4 76 80 34 51.