The recently launched Heidi Bakery has put together a special selection of sweet treats for Valentine's Day.
Including sensuous ingredients such as chocolate, ginger, rosewater and passion fruit, the new selection of cupcakes is available in boxes of 12 and features delicate buttercream roses (also available in a box of 6), love heart sweets or sprinkles. One of the box selections can even be decorated with the words of your choice – so you can make up your own special message!
Decorated in classic Valentine colors, including reds, pinks and chocolate browns, the cupcakes are also offered in special adult versions that contain a splash of liqueur.
Prices vary according to the treat you choose, but there is a Mixed Valentine's Box which combines a selection of the above, priced at Fr. 80.- for a box of 12.
The deadline for orders for Valentine's day is noon on Saturday, 12 February. As an added bonus Heidi is playing cupid and offering free delivery on Valentine's day between Geneva and Nyon! It is also possible to pick up your order from the bakery in Nyon if you prefer.
They are
happy to offer a 10% discount to knowitall.ch readers; please quote
KNOWITALL
when placing your order.
Heidi Bakery
078 707 22 83
This email address is being protected from spambots. You need JavaScript enabled to view it.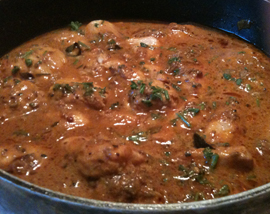 Local catering company, Safran Cuisine, is
offering knowitall.ch visitors a huge 10%
discount
on its delicious menu of home-delivered, freshly prepared Pakistani and Indian food, including its new range of "Winter Favorites" recently added to the menu.
The new Winter meals are suitable for families wishing to order a simple meal amongst friends, or companies wishing to prepare a seasonal banquet for work colleagues – in fact anybody planning a large party for a special occasion this festive season!
At the top of the Winter Favorites list is Paneer Tikka, which comprises cheese and pepper skewers, marinated in spices and then grilled. Also on the Winter menu is Kashmiri Murgh (boneless chicken curry with yoghurt, saffron and spices), Murgh Makhani (boneless chicken grilled with spices and cooked in butter, tomatoes and cream), Keema Jalfrezi (minced beef with peppers, mint and spices) and Goan Curry (fish cooked in a creamy sauce with coconut and spices). Hara Bhara Pulao (basmati rice with peas, carrots and sweet corn) has been included as a tasty accompaniment for any of these dishes!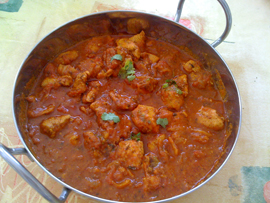 All meals are prepared by chef, Fiza Khan, who trained at the Ashburton Cookery school in the United Kingdom and has over 5 years of experience in running cookery classes and catering for corporate and private clients in the Geneva area.
Fiza teaches cooking at a number of institutes including: International School of Geneva, Ecole et Quartier Versoix and Ecole Club Migros. Her cooking classes are a further testament to her passion of awakening her students senses to new tastes and cultivating simple home cooking skills amongst all.
Take a look at her website, www.safrancuisine.com to view the full menu and find out more about cooking classes in your area!
And don't forget to take advantage of your unique knowitall.ch 10% discount when you place your food order. Please note that there is a minimum order of Fr. 150.-.
Following our recent article on local catering company, LaimaDinner, the company is now offering knowitall.ch visitors a special 7% discount on their first order!

The offer is available until 31 December and can be cashed in by entering the promotional code KNOWITALL when you checkout your order on the site at www.laimadinner.ch.

The code can also be used with LaimaDinner's Gift Vouchers, which provide a wonderful, original idea for a present in the run up to Christmas. What better way to pamper someone than provide them with all the ingredients and instructions they need to create healthy and nutritious meals for their family - without the hassle of planning what to cook and where to buy the food!
As part of its standard service, LaimaDinner delivers local, fresh products to your door AND provides easy-to-follow instructions for you to prepare 5 dinners (based on four recipes) for an average family of four during the week. Their sample menu provides a good indication of the range of organic ingredients that can be ordered throught the site.

Take a look at our original article to read more about the benefits of ordering your weekly food from LaimaDinner.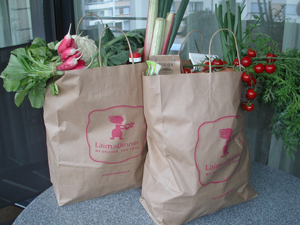 Are you responsible for the cooking in your family and getting bored serving up the same meals each week? Do you wonder how you might add a bit of a variety into the meals you deliver to the table? Or do you wish you knew more about how to find the right balance of red meat, poultry and fish in your diet, and add more healthy options including seasonal vegetables and grains.
If this is the case, you might like to take a look at the services provided by LaimaDinner, a company based in Prangins (Vaud), who will deliver local fresh products to your door AND provide easy-to-follow instructions for you to prepare 5 dinners (based on four recipes) for an average family of four during the week.
With each order you place at LaimaDinner, you will receive fresh ingredients from local suppliers, portioned according to the recipes provided. An instruction sheet will be enclosed with each delivery, including the recipes, cooking tips and product check-list. Click on the following instruction sheet to see a typical example. Sample instruction sheet.
Are you planning on holding a dinner party, but want to surprise your guests by cooking something a little unusual? Local entrepreur, Shivani, may be able to help you as she is offering to help clients prepare authentic Indian cuisine in their homes, teaching them all the steps required to produce mouth-watering dishes - be they small aperatifs or more adventurous main course meals.