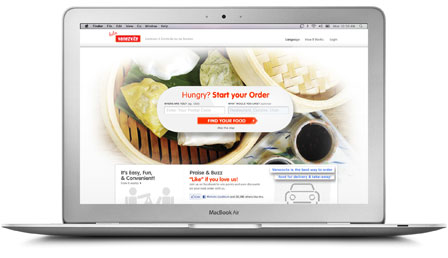 A new food delivery service has recently opened in Rolle, targeting both residential and corporate inhabitants. Called Venezvite, the new online service will enable customers to order food from a curated list of restaurants, cafés and eateries, catering for a wide range of culinary tastes.
Adjowii Özdemir, Founding Partner of Venezvite, told knowitall.ch, "Venezvite was born out of a need - a hunger if you like – for a website where one could go and have at one's fingertips, an approved list of restaurants offering delivery or take-away in the Lac Léman region. One of the luxuries that residents in the region soon come to miss from their everyday life, particularly those expatriated from larger cosmopolitan areas, is a sense of "convenience" associated with food."
She added, "Having experienced the same frustration ourselves, my co-founder, Addia Cooper-Henry, and I decided that we should create that place where people could go to find great restaurants, to order from their menus online and have their food prepared and ready for pick-up or delivery in minutes. We are a small, but growing, company with a hearty appetite for achieving and maintaining customer satisfaction."
Barbara Bastian, one of the many new customers to have signed up for the new service told us, "Venezvite was THE service we were waiting for here in Rolle. It is perfect for working people like me who don't have the time to leave their desk to head to the canteen, or who just simply want a change from the usual food on offer. It's also great for those working in smaller companies, which don't offer a food service. On Venezvite you pick your favorite restaurant and in about 45 minutes you get your meal delivered. The quality of food is great and the Venezvite team is super nice. I highly recommend it!"
Provided in both English and French, the Venezvite website where you order the food is very easy to use. Just key in your location and the site will propose a selection of restaurants in your area, highlighting those that are currently open. Information on delivery and minimum order costs is also provided, and there is the option to add your opinion on those restaurants that you have tried. Discounts for group orders and promotional offers will also be posted on the website, wherever they apply.
To order your food, you just need to click on the restaurant of your choice, then select your food from the menu available, indicating any special requirements as appropriate. Once you have reached the minimum order level, you will then be able to proceed to check-out where you have the option of logging in if you are returning customer, or registering if you are a first-time visitor.
Whilst the service is in its early days, the number of restaurants is still quite limited. However, the owners are confident that the business will grow rapidly once more and more people get to know about them. Adjowii told us, "We want people to talk about us behind our backs. In fact, we would love to invite your readers to tell a friend about us, like us on Facebook, send us the name(s) of their favorite restaurants, café, and eateries - most importantly we would love it if they would sign-up and use our service!"
Venezvite
www.venezvite.com
This email address is being protected from spambots. You need JavaScript enabled to view it.