Are you tired of cooking the same old meals and need some new ideas for Summer? Or do you simply fancy meeting some new people over some fine food and a glass of wine? If so, then you might like to book yourself a place on one of Helen Higgins' Cooking Demonstrations – a new series of courses launched this Spring and already reputed to be a great success!

Over three sessions, Helen will show you how to refresh and rejuvenate your menus, by demonstrating how to prepare a range of dishes using easily obtainable ingredients and simple-to-follow techniques.

The format is very simple – you arrive at 11.30am with your fellow course mates (up to a maximum of 6), and sit at the bar of Helen's wonderful, light and airy kitchen whilst she shows you how to prepare the dishes and answers all you questions. Some of the less interesting preparation such as washing and chopping vegetables is completed before you arrive.

When the meal is ready (usually a 3 course dinner) at around 12.45pm, you are invited to sit down at Helen's beautifully decorated table and enjoy the fruits of her labor, washed down with a delicious glass of wine! After coffee and dessert, everyone leaves at 2.30pm with copies of the recipes.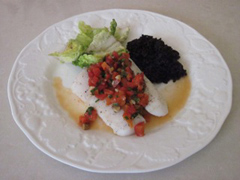 Explaining why she decided to set up the new course, Helen says, "Whilst I am a lawyer by profession, I have always been passionate about food and entertaining. I love trying new recipes and experimenting with my own creations, so when we recently renovated our kitchen I couldn't wait to show it off to my friends and try out a few favorite recipes on them. They soon convinced me that I should start sharing these recipes with others! I have already received great feedback from my first series of courses, with people telling me that they have tried the recipes and they really do work!"
She adds, "I like to use easily available ingredients and am keen to encourage people to shop responsibly. For example, when I ran a course recently based around fish, I gave each person a list of places (supplied by the WWF) where they could buy fish that comes from a sustainable source. I also have some interesting ideas planned for the future including an evening for men who would like to cook a romantic meal for their partner, and further sessions for school leavers heading off to university and needing a crash course in preparing tasty home-cooked meals!"
Helen's next series of courses is running in May on the following dates:
Tuesday 10 May – Summer Buffet Part 1
Tuesday 17 May – Summer Buffet Part 2
Tuesday 24 May – A Seasonal Lunch
Thursday 12 May – Summer Buffet Part 1
Thursday 19 May – Summer Buffet Part 2
Thursday 26 May – A Seasonal Lunch
Time: 11.30am to 2.30pm
Location: 12 Chemin du Lac, Founex
Price: Fr. 200.- for 3 Tuesdays or 3 Thursdays
Tel: + 41 78 616 5676
Email:
This email address is being protected from spambots. You need JavaScript enabled to view it.
If you're interested, don't waste time in contacting Helen as places are limited!
See the flyer
on our website.