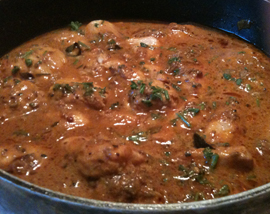 Local catering company, Safran Cuisine, is
offering knowitall.ch visitors a huge 10%
discount
on its delicious menu of home-delivered, freshly prepared Pakistani and Indian food, including its new range of "Winter Favorites" recently added to the menu.
The new Winter meals are suitable for families wishing to order a simple meal amongst friends, or companies wishing to prepare a seasonal banquet for work colleagues – in fact anybody planning a large party for a special occasion this festive season!
At the top of the Winter Favorites list is Paneer Tikka, which comprises cheese and pepper skewers, marinated in spices and then grilled. Also on the Winter menu is Kashmiri Murgh (boneless chicken curry with yoghurt, saffron and spices), Murgh Makhani (boneless chicken grilled with spices and cooked in butter, tomatoes and cream), Keema Jalfrezi (minced beef with peppers, mint and spices) and Goan Curry (fish cooked in a creamy sauce with coconut and spices). Hara Bhara Pulao (basmati rice with peas, carrots and sweet corn) has been included as a tasty accompaniment for any of these dishes!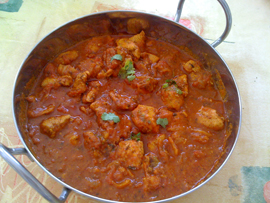 All meals are prepared by chef, Fiza Khan, who trained at the Ashburton Cookery school in the United Kingdom and has over 5 years of experience in running cookery classes and catering for corporate and private clients in the Geneva area.
Fiza teaches cooking at a number of institutes including: International School of Geneva, Ecole et Quartier Versoix and Ecole Club Migros. Her cooking classes are a further testament to her passion of awakening her students senses to new tastes and cultivating simple home cooking skills amongst all.
Take a look at her website, www.safrancuisine.com to view the full menu and find out more about cooking classes in your area!
And don't forget to take advantage of your unique knowitall.ch 10% discount when you place your food order. Please note that there is a minimum order of Fr. 150.-.