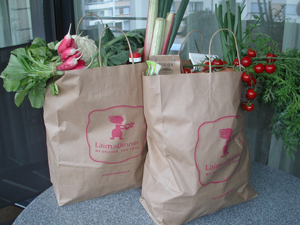 Are you responsible for the cooking in your family and getting bored serving up the same meals each week? Do you wonder how you might add a bit of a variety into the meals you deliver to the table? Or do you wish you knew more about how to find the right balance of red meat, poultry and fish in your diet, and add more healthy options including seasonal vegetables and grains.
If this is the case, you might like to take a look at the services provided by LaimaDinner, a company based in Prangins (Vaud), who will deliver local fresh products to your door AND provide easy-to-follow instructions for you to prepare 5 dinners (based on four recipes) for an average family of four during the week.
With each order you place at LaimaDinner, you will receive fresh ingredients from local suppliers, portioned according to the recipes provided. An instruction sheet will be enclosed with each delivery, including the recipes, cooking tips and product check-list. Click on the following instruction sheet to see a typical example. Sample instruction sheet.
Each meal will take typically 35 to 55 minutes to prepare – the cooking time is indicated on each recipe so that you choose when to cook each meal according to your availability. One of the four meals provided in the weekly package is delivered in a double quantity so that you can cook it once and reheat it on an evening when you have less time, or you can provide it when you have guests for dinner.
Not only does LaimaDinner pay a lot of attention to the health benefits of each of its meal preparations, it is also extremely conscious of the environmental impact of its food service. A whole section of the company's website is dedicated to the environmental benefits provided by the company, including the fact that its website server runs on a renewable energy source that is powered by energy from the sun!
Laima Tikuisiene, Founder of LaimaDinner, comments, "I believe that one of the cornerstones of family life is a healthy attitude towards food and healthy eating habits. If we can get this right with our children they will be set for life. We can make a difference in public health by implementing better eating habits in the families. Reasonable use of red meat, reduction of food waste and less shopping trips, as well as using more locally produced products, is our investment in environment protection as well."
The price of five meals for four people, representing a minimum of 20 portions, is Fr. 245.- and includes delivery within Vaud and Geneva. For those families living in France but working in Switzerland, LaimaDinner will deliver to your office.
For further information email: service@laimadinner or visit the website: www.laimadinner.ch. In addition to providing details on its delivery service, the website includes useful nutritional tips for the family.
LaimaDinner is also featured on page 195 of the 2011/2012 edition of Know-it-all passport.