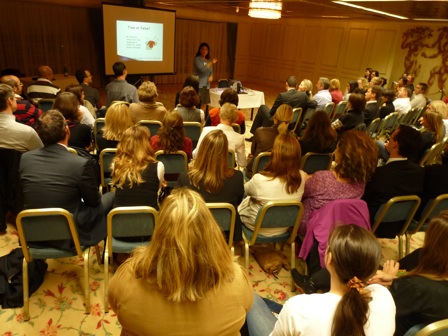 Know-it-all passport presented a workshop for
Raising Multilingual Children: Foreign Language Acquisition and Children
by world-renowned specialist in education and neuroscience, Tracey Tokuhama-Espinosa, Ph.D. www.traceytokuhama.com
Tracey is half Japanese-American, half Irish-Native American and is married to an Ecuadorian. Her 3 children aged 18, 16 and 14 speak fluent English, Spanish and German and some French.
Tracey Tokuhama-Espinosa, author of "Raising Multilingual Children" and 5 other books on the brain and learning, visited Lausanne and Geneva to present her dynamic workshops on November 1st and 2nd, 2011.
There are Ten Key Factors which influence every student's success with new languages:
1) Timing
2) Aptitude
3) Motivation
4) Strategy
5) Consistency
6) Opportunity
7) Language Typology
8) Siblings
9) Gender
10) Hand-use
Each person combined these "ingredients" together in their own unique "recipe" for learning. This workshop familiarized teachers and parents with the factors and suggested tools for enhancing those which are shaped in the school context.
Tracey explained how children learn languages and answered your questions. For example:
Is it ok to have 2, 3, 4 languages at the same time or is it better for children to learn languages consecutively?
When should your children learn multiliteracy skills?
Who should speak what in order to maximize the best language skills?
Should you learn a foreign language alongside your children?
Raising your child multilingually has worked so far, but now your child is growing up and you have different questions about identity, literacy, strategy, etc.
You came with your own questions and shared your own concerns about the best way to raise multilingual children.
Tracey expects to be back in the area November 2012 and we will be presenting more workshops at that time. Please This email address is being protected from spambots. You need JavaScript enabled to view it. in advance if you would like to be informed.
We would love to get feedback from you to help us improve. Here are some of the comments we have had so far:
"Thank you very much for making this excellent workshop available! I really enjoyed it and got a lot out of it. I was about to give up on speaking Italian with my daughter, but got my second wind now." —Maria
"What a great presentation and speaker, thank you very much." —Jamie
"I would like to commend you and Tracey for a truly wonderful seminar. Thank you for organizing this. The information we all received on Wednesday has proven to be so useful and was delivered in such a fun and jovial way that it would be forever remembered. THANK YOU THANK YOU THANK YOU! And I'm completely with you about not being able to recall word for word what Tracey says. She cited examples that made everything so clear and I'd love to stop, rewind and play her again and again.;-) She's amazing! Thank you again for such a wonderful workshop!" —Kecia
"Just wanted to say the workshop was great, inspiring and really very, very helpful. Many thanks for organizing it, great initiative." —Joanna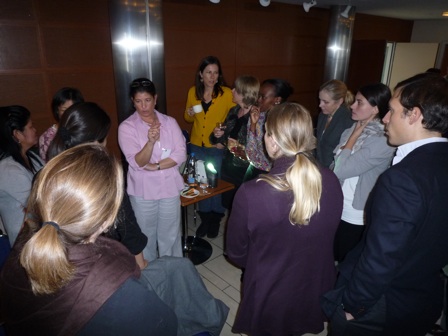 Here are Tracey's slides but as you realize scanning through them, it is hard to get the full effect without her dynamic style!
©Tracey Tokuhama-Espinosa 2011