As of 1 January 2023, Heart2Heart launched an English-speaking hotline throughout Switzerland. This is a new branch of the emergency service for telephone number 143: La Main Tendue. Tel 143 is one of the best-known contact points for emotional first aid in Switzerland and the Principality of Liechtenstein and offers empathetic conversations with trained listeners. This service is free of charge, anonymous, and confidential.
Matthias Herren explained to knowitall.ch, "At Heart2Heart no topic is too big or small – we are here to listen to people's concerns, support them in a crisis, or share their good news. We are pleased to have trained English-language volunteers over the last year to be able to try out this new section. All the other 3 official Swiss languages are represented but we felt it necessary to reach out to those that are more comfortable speaking in English, especially in times of turmoil."
From January 2023, the new English line will be called "Heart2Heart", and can be reached daily from 6pm to 11pm through the toll free number 0800 143 000. Those needing to talk about depression, relationship issues, sadness, mental distress, pandemic worries, suicidal thoughts, loneliness, exciting news of any sort, or any other subject where they need have someone listen, are welcome to call the hotline.
Please pass this information along to your friends, colleagues, and neighbors as there are many people who do not know this service is available.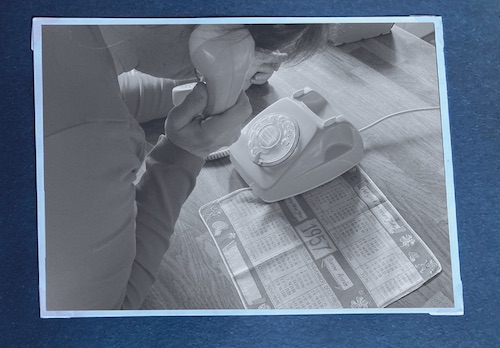 After World War 2 there was an increase in those needing help with their mental health; someone anonymous to talk to. Die Dargebotene Hand, the Swiss-German branch translating as The Helping Hand, started in Zurich in October 1957. It soon was developed into the other parts of Switzerland under the names La Main Tendue (translated as The Outstretched Hand), and Telefono Amico (translated as The Friendly Telephone).
More and more English-speaking people living in Switzerland are not able to communicate in one of the national languages. In urban areas such as Zurich, Geneva, and parts of Vaud, the number of English-speaking residents has increased dramatically in the past twenty years.
The impact of the increasing number of English-speaking people is already being felt by La Main Tendue. Although the services of Tel 143 have only been available in the respective national languages, a rising number of callers are requesting a conversation in English. In recent times, the number of English-speaking callers contacting Die Dargebotene Hand in the Zurich region has doubled from year to year. Even though many of these people have a basic knowledge of a national language, they are not always able to talk about their problems in German, French or Italian in crisis situations.
As the best known, easy access, psycho-social hotline, La Main Tendue also wants to be accessible to the largest non-national language group in Switzerland. English-speaking people calling Tel 143 should not have to rely simply on luck in reaching a person with good enough English language skills to talk with them. Starting on 1 January 2023, Tel 143 is offering a dedicated English-speaking service with limited hours per day.
The name of the new hotline, Heart2Heart, refers to the confidential conversations offered by La Main Tendue. Whether you have worries, difficulties, crises or even joyful news, no topic is too big or too small to be shared with one of the specially-trained team members at Heart2Heart. All co-workers at Heart2Heart are either native English-speakers or have a very good level of English.
If you would like to donate or volunteer at La Main Tendue of your region, please check out the website for details. At the moment, there are enough English-speaking volunteers for Heart2Heart but check back in the autumn for news.
If you are interested in the 2021 annual report, you can see it at this link. You will find many interesting statistics and how the association develops their strategy to meet current needs.
Heart2Heart
www.heart2heart.143.ch
This email address is being protected from spambots. You need JavaScript enabled to view it.
0800 143 000
As a start, the English-language helpline is open 365 days a year, 5 hours a day (18h-23h). This might change after they evaluate in the autumn this year. After that, if there is need, they will hold longer hours.
0800 143 000 English-language hotline

143 Regional hotline: If you call 143, you will reach your regional hotline automatically in the language of that area. This number is open 24h/7. There is also the availability to chat or email as well as speak by telephone.
144 Medical emergencies (ambulance)
117 Police
118 Fire department