Being an expat or a foreigner in a strange country can sometimes put a huge strain on a relationship, especially when there are other issues to cope with. Many a marriage has broken up as couples find it difficult to adapt to their new life with the same ease.
It is natural for couples to feel tension when there is one partner working and the other is trying hard to reinvent themselves and adapt to a new language, food, shopping, schools, activities and friends. Culture shock rarely hits both adults at the same time: in short, they experience "desynchronization of their intercultural adjustment".
The following chart shows a typical cycle. Imagine what might happen if you were married and either you or your partner had a delayed response within the cycle. Suddenly one of you is on a high, embracing life and all it has to offer you in your new country. Meanwhile the other partner is feeling depressed, irritable and isolated, with no-one to support them during a difficult phase when it feels that their views are in total opposition to their new environment.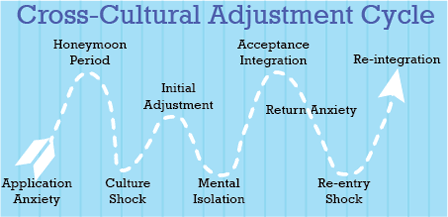 If you find yourself in this situation, you shouldn't despair! There are many English-speaking experts living in and around Geneva who can help you work through your emotions. Check out the list of marriage counselors on page 525 of Know-it-all passport 2013/2014. Don't forget that if they're on our list, they have been recommended to us, which means someone else was in a similar situation to you, and enlisted their help! If your problems are more deep-routed and you feel medical support is more appropriate, then send us an email and request our list of medical professionals, including psychotherapists and psychiatrists, all of whom have been personally recommended to us.
Whatever you do, please do not opt for divorce until you have tried everything else!
However, if you still feel that your marriage is over, and you need a quick and painless way to extract yourself from an increasingly corrosive relationship, then EasyDivorce.ch may be your answer. Recommended to us recently by a Know-it-all passport client, this online service provides a quick and easy way for you to divorce at a price you can afford.
Providing at least one of the couple resides in Switzerland, EasyDivorce.ch can help you organize a rapid divorce, without the time-consuming and expensive inconvenience of employing a lawyer. The website service is available in English, as well as many other languages too, but you can also call and speak in person to someone on the phone if needed. EasyDivorce.ch have many expat clients - in fact, they boast that they have served around 180 different nationalities.
How it works
The first thing you need to do when you visit the EasyDivorce.ch website is create an account with your own dossier, for which there is no initial fee or obligation. As soon as you need the relevant documents to support your divorce in court, then you must make the payment of Fr. 390.- for a separation or Fr. 550.- for a divorce. If you would like to divorce without going through a separation, this is possible.
Remember, this procedure only works if at least one of the couple resides in Switzerland. If this is not the case, you cannot divorce in Switzerland. Also, complicated divorces that have disputes will not be handled by EasyDivorce.ch.
Once payment is made, you will have direct access to the necessary court documents within your personal online folder. When you are happy with the contents of these documents, you can send a "validation request" to the legal department of EasyDivorce.ch, who will check over your papers and let you know whether they are ready to print, sign, and send to the court.
Once your documents have been validated, it usually takes about 2 months for a court hearing to be scheduled. In the case of a separation, a court session is not necessarily required – this is entirely at the discretion of the judge presiding over your case. At the court hearing, the judge will then read the documents and, assuming he is happy with the contents, will declare the separation or divorce official.
The documents produced through EasyDivorce.ch are recognized by all courts in the Swiss Romand cantons, and for all the Swiss German cantons there is www.einfache-scheidung.ch.
For more information:

EasyDivorce.ch
021 802 65 66
www.easydivorce.ch
This email address is being protected from spambots. You need JavaScript enabled to view it.
Click here to watch an explanatory video in English
This article was first published on 24 March 2014. On 4 November 2016, we updated the text under "How it works" to include the new, lower rates for divorces and separations. The services now offered by EasyDivorce.ch are:
Divorce par consentement mutuel Fr. 550.-
Convention de séparation Fr. 390.-
Modification de jugement de divorce Fr. 390.-
Convention couples non mariés Fr. 390.-
Dissolution de partenariat enregistré Fr. 550.-
Save
Save