A new crèche has recently opened in Mies, catering for both the local and international community of the Lake Geneva region. Part of the Bébébiz group of kindergartens, which includes 15 crèches throughout France, the new nursery is located in a newly converted, bright and airy space, measuring 500m2, and is conveniently located just a short drive or train journey from Geneva.
Featuring hand-painted murals with inspirational themes aimed at awakening the creativity of the child, the new crèche is able to cater for 44 children, divided into 2 groups: 24 children aged from 4 months to 2 and a half years, and 20 children aged from 2 and half years to primary school age.
Pedagogical Director, Corinne Valencia told knowitall.ch,"At Bébébiz we recognize that no two children are the same and offer a personalized service that matches the rhythm of the individual child. Within a broad framework of activities, that includes free play as well as communal games, meals and naps are scheduled to fit in with individual needs. Our highly trained staff have the experience to recognize the key signs for each child, and respond accordingly to their specific requirements. We have a purpose-built room, dedicated to siestas, so when children are ready for their nap, they can be sure of having absolute peace and quiet."
Asked what makes Bébébiz special compared to other similar nurseries in the region, Corinne highlighted the multilingual skills of her staff. "We know it can be very difficult for expats to find crèches for their children when the staff not only are unable to speak the same language, but don't appreciate some of the subtle, but important cultural differences between children of different nationalities. Our staff come from a variety of cultures and speak many different languages including French, English, German and Portuguese – so there are no misunderstandings when we speak to our expat parents!"
She added, "At Bébébiz we believe the emotional well-being of the child is very important. Through our pre-interviews with the parents and the maintaining of these relationships, we offer a very personalised service." Indeed one mother from another Bébébiz crèche told us that the staff had adapted so well to the needs of her daughter and had established such a good rhythm for her that they had no problems implementing the same rhythm at home, an issue that can be very important in working families. She was particularly impressed by the ongoing communication with the crèche that enabled her to know on an hourly basis how her daughter's day was progressing.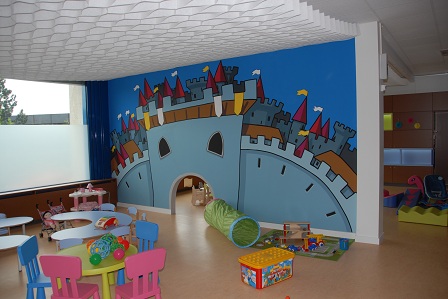 Bébébiz also has a flexible approach to the hours that you are able to leave your child. Five options are possible, which can be adapted to your personal requirements. Full-time working parents have the option of leaving their child for a whole day between the hours of 7h00 and 18h30, whilst part-time parents or those just wishing to give their child a nursery experience have the possibility of leaving their child for the morning with lunch, morning with lunch and nap, afternoon with nap, or afternoon only. Click here for more details about times and prices.
Since the crèche has only been open a few weeks, there are still places available. If you are interested in a place for your child, you are encouraged to contact Corinne Valencia, as soon as possible to arrange an initial parent interview.
Bébébiz
Route Suisse 7D
1295 Mies
Switzerland
www.bebebiz.ch
Corinne Valencia
This email address is being protected from spambots. You need JavaScript enabled to view it.
This email address is being protected from spambots. You need JavaScript enabled to view it.
076 681 32 98
022 755 56 39