Located 5 minutes above the village of Aigle in Vaud, the Happy Dogs Aigle boarding and daycare center must offer one of the most tranquil settings for a dog center that you will ever see.
Surrounded by mountains and forests, it provides a real home from home for your dog – a place where your favorite hound will love to visit whilst you head off on holiday.
Owner, Aileen Woulfe, told knowitall.ch, "Our aim is to look after your dog as if they are one of our own. That means lots of walks, fun and belly rubs, homely accommodation with plenty of family contact, stimulation, exercise and quality quiet time."
About Aileen
Aileen Woulfe is an Irish expat, who has lived in Switzerland since 2004. After a career in medical international sales and marketing, she decided to find a way to be self-employed and happy, which for her, meant working with dogs - so she retrained and received a diplôme cynologique in breeding, grooming and kennel management. Once she had found the premises and got the necessary permissions, she then persuaded her husband, Ronan, to move with her from their "normal village house" to a farm half way up a mountain!
Aileen told knowitall.ch, "Every dog differs regarding physical exercise, mental stimulation, playtime, sleep and human contact. By setting up a small, family-run facility with a capacity of 6-12 dogs, we can focus on the individual needs of each dog that stays. We know we cannot replicate home for all dogs, but our promise is to treat each dog individually, to make them feel as comfortable as they can be away from home, in a place where they feel safe and cared for in their owner's absence."
Luxurious accommodation
When you book a place for your dog at Happy Dogs Aigle, it is much like booking holiday accommodation for yourself! Indeed, you can book one of the mountain view suites advertised on their website, each with their own underfloor heating, glass double doors, KarundaTM raised beds, shower area, and access to the gardens throughout the day!
Alternatively, you can reserve one of the huge garden rooms that measures 10m2 or more, or book the annexe where your dogs can have a fully furnished studio apartment to themselves! You can even ask for your dog to stay in the owner's family home!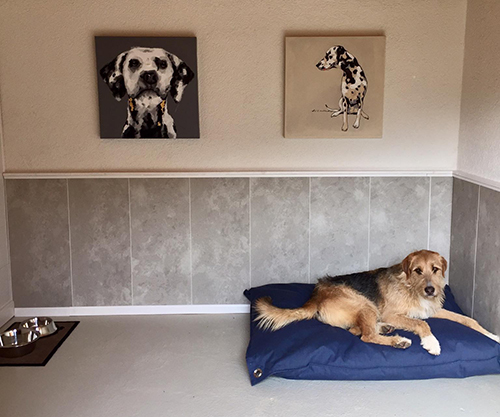 Aileen commented, "Our decor is very much "home style" to reduce stress for boarders as much as possible. Two dogs from the same household are welcome to share any suite. While various dogs may play together under supervision, they sleep and eat separately, unless they are from the same household."
She added, "Specially mixed relaxing canine music (Through a Dog's Ear™) plays throughout the day and Adaptil™ diffusers are provided in the sleep areas. Adaptil™ is a natural canine appeasing pheromone known to comfort dogs in situations they might find stressful."
Three main services
Aileen provides 3 levels of service at her center:
Dog Boarding
Fr. 50.- / dog / day (from 1 January 2018)
Home style boarding for sociable dogs. Arrival day is charged regardless of the time you arrive. Departure day is not charged IF dog is collected before 12h. The center only accepts castrated/spayed dogs.


Dog Day Care
Fr. 35.- (up to 10 hours). More than 10 hours, overnight rate applies (from 1 January 2018)
Daycare for dogs works like daycare for children. You drop your dog to Happy Dogs Aigle in the morning, and he/she gets to play, exercise and relax while you're away from home for a full or half day!


Dog Walking (Aigle-Leysin region)
Fr. 25.- (1 hour)
Dog walking service for those who prefer dogs to stay in their own home during the day. Your dog will be brought for a walk and a coffee/lunch then returned home happy and relaxed.

What makes Happy Dogs Aigle special?
So why should dog owners choose Happy Dogs Aigle over other boarding and day care centers in the region? Aileen is very clear about what makes her center special. She told knowitall.ch, "I knew exactly what I wanted in boarding care for my own dogs when we (frequently) travelled and could never find what I was looking for. I had a wonderful dog minder who looked after my dogs in her home, but I could never guarantee her availability, particularly at short notice."
She continued, "I also knew what I definitely didn't want for my dogs which was those huge, noisy, stressful kennels with loads of barking dogs. So when I quit my marketing career, I set out to create what I had always looked for - the personal touch of a small family run facility with higher availability than the typical home boarding scenario."
Aileen looks after sociable dogs and introduces them to the boarding facilities and other dogs very carefully and at the dogs' pace. She works hard to minimize stress and maximise enjoyment, and is happy to offer facilities to older dogs or those that might be nervous or anxious. With a 17 year old dog of her own, and other dogs that have come from rescue organisations, she empathizes with others dog owners in the same situation.
Client recommendation
Indeed, one client, Bryanna Grace, was extremely happy with the service her rescue dog received at the center earlier this year. She told us, "My dog, Aimee, stayed in their awesome boarding facilities for ten days at the end of May and I cannot recommend them enough. Aimee is a former Romanian street dog that I adopted in March of this year. I knew I would not be able to leave her in a large, kennel type situation without causing her a lot of stress. I wanted to find a boarding facility that offered a "home like" environment where her special requirements could be met and luckily I found Happy Dogs Aigle."
She continued, "From my first contact with Aileen, I knew that I could trust her. She was very friendly and most importantly very knowledgable about dogs and rescue dogs, in particular…After I dropped Aimee off for her ten day stay, I received daily updates and photos from Aileen letting me know how she was doing. The updates and photos were reassuring and allowed me to enjoy my holiday knowing that Aimee was being well cared for and having a good time also."
She concluded, "Aileen's passion for her business is apparent in the quality of care that she provides for the dogs as well as the beautiful facilities that she offers. If I could, I'd love to book myself in for a week-long stay!"
Special discount
Aileen invites all new clients to visit her center before making any bookings. She wants them to see for themselves the kind of service their dogs can expect to receive when they stay - the personal touch you will find in home care, combined with the higher capacity of a small professional facility.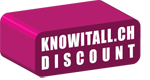 If you would like to try out the center for your own dog, then Aileen has kindly offered a 10% discount on all new bookings made by knowitall.ch readers. Just mention this article when you make your booking. The offer is valid on all bookings made before 31 March 2018.
Don't forget that the emphasis is on small here. So whilst you are more likely to find a place for your dog than at a dog minders, you will need to book early to be sure of getting a place, especially during peak periods. Christmas is already fully booked.
Aileen also has specific terms and conditions which must be met before any dog can stay overnight with her…including a trial night before longer bookings can be made. Click here for more information.
Future plans
Aileen has a special interest in canine nutrition and holistic treatment for dogs, and is keen to share her enthusiasm with other dog owners. Last month she held her first Natural Dog Seminar, covering everything from herbs and essential oils for dogs through to physiotherapy and rehabilitation. The event was so successful that she plans to hold another seminar next year for English-speaking dog owners. Keep an eye out on her website and our calendar for more information.
With more and more dog owners keen to feed fresh food to their dogs, Aileen is building a new cold storage area at her center to accommodate their food! The work will begin in January next year, along with the creation of 4 additional suites, grooming facilities and another outdoor play area.
Happy Dogs Aigle
Les Afforets, 18
1860 Aigle
+41 79 5967261
This email address is being protected from spambots. You need JavaScript enabled to view it.
www.happydogsaigle.ch
Save
Save
Save
Save
Save
Save
Save
Save
Save
Save
Save
Save
Save
Save