©Alimentarium_www.sofy.ch
With all the current talk about healthy eating in the press and social media, the news that the Alimentarium museum in Vevey has launched a new version of its online learning platform, Alimentarium Academy, could not come at a better time.
With schools eager to include more information about food in their curricula, and parents keen to encourage their kids to eat more nutritious food, the Alimentarium Academy has hit upon a winning solution for all…and one which makes learning all about food great fun for the kids!
First launched in April 2015 with the support of EPFL in Lausanne, the Alimentarium Academy online learning platform has now been radically updated to cater for the interests of both children and their teachers, indeed all adults, not just parents too.
5 key food topics
Available online to the public as well as at various consoles located throughout the Alimentarium museum, the Alimentarium Academy explores 5 key topics related to food and nutrition, through 66 videos, 600 quiz questions, 89 activities, 12 games, and a quiz app too!
In addition to Food and the 5 senses, Food and nutrients, Processing food, and The digestive system, there is a whole new category in the updated version of the platform, called Ecology and food economy. All 5 sections can be explored in a variety of fun-filled, interactive ways, each designed to quench our thirst for knowledge about food, and to raise children's awareness about the challenges faced by society regarding this fascinating topic.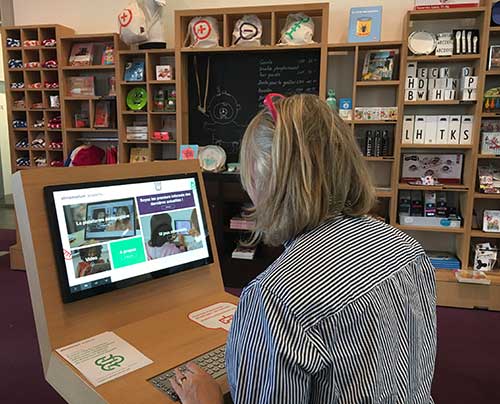 How it works
Alimentarium Academy is accessible free of charge to children, teachers and adults alike. The platform, available in French, English and German, follows a five-step learning process: having read the theoretical content, users then put their acquired knowledge into practice through activities and games related to what they have read. They then move on to watch educational videos made by experts, before taking part in a quiz and then checking their answers.
A key feature of the new platform is the way it has been configured for the three main types of users. For example, if you enter the site as a child, you can select to follow a course according to 3 different levels of ability: easy, medium, and advanced. Likewise, if you are a teacher, you can choose from 3 different age ranges when selecting ready-to-use teaching materials for your students: 8 – 10 years old, 11-13 years old and 14-16 years old. Users can dip into any of the activities when they like, or set up an account and follow the full program from beginning to end.
At a press conference to launch the new educational platform in November 2017, Content Manager, Nicolas Godinot, said, "The age ranges we have selected are compatible with the age that material of this kind is introduced in the Swiss-French, Swiss-German and French school curricula. The platform's progress monitoring system enables teachers to set educational objectives and track the progress of the students on their school account. However, there is no reason why a much younger child can't have fun playing some of the games on the site, and learn a thing or two on the way!"
Alimentarium Academy
https://academy.alimentarium.org/en
Watch this video: https://www.youtube.com/watch?v=Y7H2O1kY1R4
Alimentarium
Quai Perdonnet 25
1800 Vevey
021 924 41 11 (Customer Service: 9:00 - 11:30 / 13:30 - 17:00)
https://www.alimentarium.org/en
Opening times:
From Tuesday to Sunday: 10h - 18h (Summer) / 10h - 17h (Winter)


Save
Save
Save
Save
Save
Save
Save
Save
Save
Save