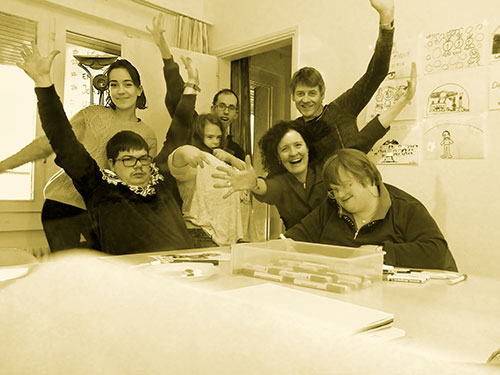 A new inclusive, multi-talented agency has just been set up in Nyon, which delivers innovative and creative communication solutions for clients who are concerned about their corporate social responsibility.
Called Sweet Rebels, the new communications agency integrates the multi-faceted talents of mentally-handicapped people as well as art and design students and professional artistic directors to provide a wide range of imaginative solutions for its clients. The agency currently operates as a sub-division of the advertising agency, Twist SA, which has recently moved premises within Nyon to accommodate the special needs of the new sub-agency.
Isabel Montserrat, Director of Sweet Rebels, met knowitall.ch in March to explain more about the agency, and how it evolved. She said,
"Before Sweet Rebels was set up, I was studying in Barcelona for a Masters in Corporate Social Responsibility, when I came across the work of a studio called "La Casa de Carlota". It was truly inspirational what they were doing, employing handicapped people for their unique qualities and talents rather than focusing on the things that they can't do. It was evident that with the right direction, the projects they were working on had real commercial value and I was keen to try something similar when I returned to Switzerland."

A few suggestions for wine labels from the Sweet Rebels creative team.
When Isabel was back in Switzerland, she met up with Yves Portenier, founder and Creative Director at Twist SA, and it was clear they had much in common. Although he was running a successful advertising agency and working with big names such as Gordon's Gin, Manpower, Teflon and L'Hebdo in the past, and more recently Clinique Générale Beaulieu, Yves was concerned that his agency was not engaging socially with the local community, and needed to be more responsible for its actions. So he asked Isabel to join him in the Sweet Rebels project and develop a plan that would see the agency become a leading example of corporate social responsibility within the advertising world.
In May 2015, the two of them were interviewed on television at the Salon du Livre to present the concept behind their idea and to enlist support from the community. Nearly 12 months later, Sweet Rebels is now a fully operational agency taking on pro bono and commercial work. Isabel explained the process they went through to get here.
"In the early stages we spent a lot of time talking to local institutions for the mentally handicapped to see how they engage with their residents, so that we could make the best use of their talents. In the first 3 months we worked closely with the Fondation de Lavigny and Fondation de l'Esperance at their workshops in Vaud to get a clearer idea of what was possible. We were amazed by the creativity of those involved on the project and their unique approach to finding not just artistic solutions to an advertising brief, but also verbal solutions too."
Just one of many ideas from the Sweet Rebels team for Valentine's Day cards.
She continued. "We finally identified 5 people who were keen to work on our creative team, not at the institution but at our studio in Nyon. One of the main criteria when selecting our team was that they could have the freedom and pleasure of being wholly independent and travel to our studio on their own. So in searching for new premises for the agency, we had to make sure that we were within walking distance of the train station and a bus stop."
Another key component of the Sweet Rebels creative team is the student intern, currently working at Twist. According to Isabel, students benefit enormously from working in a multi-talented team, feeding on their ideas as well as contributing their own. "You never know in which direction the creative sessions at Sweet Rebels will lead you, so it is important to have an open mind at all times!" she said.
"For some, this is still quite a risky approach to take," she continued. "However, potential clients are starting to see huge benefits, not just from a socially responsible point of view. Because of the unique nature of the people we work with, our campaigns are extremely innovative and creative, and clients really like that!"
Once the brief has been taken for a Sweet Rebels project, the creative director assigned to the project will then prepare a Mood Board for the creative team. At the moment, this team meets twice a week for 2 hours at a time. Often one session is enough to get the creative input required for a particular job – occasionally two are required for larger assignments such as the recent campaign the agency prepared for a major drinks company.
Tasked with producing a special look for a new line of flavoured lemonade, the creative team produced a series of artwork using two different media – pencil crayon and felt tips. With colourful graphics ranging from bubbles to fruit people, the creative director had ample material to work with when it came to preparing the formal proposal for the client. After considering the current market position and preparing a brief analysis of the competition, the presentation included 3 separate proposals, one of which was prepared solely by the student intern. Isabel told us,
"In this case, the client didn't choose the intern's proposal, instead requesting two more variants of one of the other visuals before giving the go ahead to launch the campaign. However, we had one case recently where the student's work was very much appreciated, even if it was not chosen in the end, and we consider this an essential part of the intern's training, one which gives them a valuable insight into the whole process of receiving a client brief through to the client's acceptance and ultimately the production of the entire campaign, which for this client included various promotional items to help launch the new product."
With projects like this under their belt, it is no surprise that Sweet Rebels was chosen to create the internet banner campaign for "Le Meilleur de la Pub" (http://www.lemeilleurdelapub.ch), a new advertising award in Switzerland with various sub-categories targeted at advertising and communication agencies, graphic artists, designers, internal communication departments, marketeers and photographers. Isabel commented, "In this campaign, the wording of the banners was particularly important so we spent a whole session with the creative team focusing on the phrases that we would use as well as the graphics. To be commissioned by the organizers of such a prestigious award linked so closely to the field that we work in, was a huge boost to the Sweet Rebels team, inspiring us on to greater things!"
You can view more work from the Sweet Rebels team by visiting their Facebook page at https://www.facebook.com/sweetrebels.org/. Look out for Darth Vader in a series of images created for their St. Valentine's campaign, or some of their bold ideas for wine bottle labels – surely it won't be too long before one of our local vineyards is inspired by their ideas to commission new labels for next year's vintage!

Sweet Rebels was commissioned to create a new logo for a company offering parabolic flights for its clients.
So what's next for the agency? Isabel explained that there was still some way to go before Sweet Rebels was truly self-sufficient. "There is a misconception amongst some potential clients who think we should cost less than traditional agencies pitching for the same work. Whilst we would love to be more competitive in our pricing, unfortunately that simply isn't possible – in addition to paying the creative team, we also have to support the costs of student training and, of course, our professional directors who are ultimately responsible for directing the creative process and bringing everything together for the final proposal and eventual campaign".
She continued, "Our next step is to register the agency as an Association. Once people start to recognise that we are an organization offering social added value, we feel sure they will become more accepting of the costs and will appreciate the real value of our professional service!"
Sweet Rebels is still a relatively young organization, very much in the developmental stage. Anyone interested in finding out more about the work of the agency, either as a potential client or future investor, is invited to contact Isabel at the address below:
Isabel Montserrat
Director
Sweet Rebels
Route de St. Cergue 35
CH-1260 Nyon
022 362 26 17
This email address is being protected from spambots. You need JavaScript enabled to view it.
https://www.facebook.com/sweetrebels.org/
Yves Portenier
Creative Director
Twist SA
Route de St. Cergue 35
CH-1260 Nyon
022 362 26 17
This email address is being protected from spambots. You need JavaScript enabled to view it.
http://www.twist-advertising.ch/