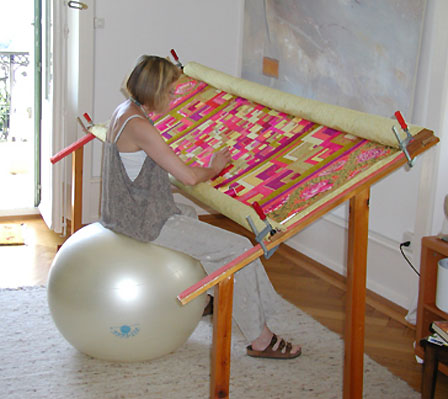 A highly experienced and talented quilter, living in Lausanne, is offering knowitall.ch clients a 10% discount on both her ready-made and newly commissioned quilts.
A teacher at the popular PATJO patchwork boutique in Lausanne, near Cheseaux, Judith Lenzin has over 30 years experience of quilting, the last 18 of which have been spent working full-time on creative, quilt-related activities, including commissioned work, teaching, and exhibiting in shows. Judith currently supplies quilts, evening bags, and textile jewelry to the David'Recherche boutique in Lausanne.
Judith told knowitall.ch," My life as a quilter started in 1979 when I made my very first quilt in Montreal. I used a traditional quilting frame for the first time in Virginia in 1980. I have always made large quilts suitable for beds, but more recently I have focused on creating smaller quilts ideal for napping and decoration accenting. Teaching has encouraged me to scale down and offer wall pieces as a means of demonstrating quilting techniques to classes. I even went through a phase where I made miniature-framed pieces shown under glass, measuring just a couple of centimeters square!"
She continued, "To date I have made 146 larger-sized quilts and countless wall pieces and other textile art objects. In October I will exhibit in the Galérie de la Prieuré in Pully where there will be a silent auction for larger pieces and the possibility to purchase smaller objects as well. All items exhibited will have been created by me alone!"
Asked about her unusual range of evening bags, Judith told us, "I started to make evening bags more seriously in 2002 and have sold them in many boutiques and craft fairs since then. All the forms are completely original and designed in muslin first. Each one is unique. Beading plays a big role now in the embellishment of the evening bags and if my first ones were shy and unassuming, the recent ones are much more elaborate and expressive with beading!"
Not only does Judith produce all her work entirely on her own, but most of the designs, apart from those quilts that can be considered "traditional", are hers as well. All the hand quilting is produced on a traditional frame – something which she believes no-one else in her area is doing. She is entirely self-taught so many of the techniques and ideas she has developed over the years come very much from herself, giving a unique feel to her work.
Indeed one client , Kathleen Vionnet, wrote this to us, "How long have we had our first quilt? This is easy to remember. It was our most valuable wedding present. We have had it since February 1997 and it has kept us cozy and warm ever since. The design is simply unique and its colours haven't changed, despite the numerous washing (with great care, of course). When we bought a bigger-sized bed, we were unhappy that our quilt no longer fit. It was therefore moved to the guest room, where it looks very welcoming. After a couple of months without a quilt, we felt rather unsatisfied about the look of our room. We finally decided we should order a new quilt from our preferred quilt maker, Judy Lenzin. So Judy came into action. All we provided her with was a range of colours. Trusting her talent, we gave her carte blanche for the design. In no time she got inspired and addicted to her new project. The result is simply stunning. Her quilt and the two matching cushions have this wow effect, whenever you enter the bedroom. Each handmade quilt by Judy is a masterpiece. We recommend her without any hesitation".
To see for yourself the full range of designs that Judith adopts in her work, not just in her quilts but in her bags and other accessories too, visit her website and blog at the addresses given below. If you fancy trying your own hand at quilting then you should consider enrolling on one of the new English-speaking quilting courses, which Judith will be teaching at the PATJO boutique in Lausanne. More details about these and other courses provided by this boutique can be found via the website indicated below.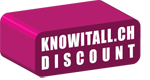 To take advantage of Judith's special offer to knowitall.ch clients, which includes 10% off both her ready-made and newly-commissioned quilts, just mention this article on the knowitall.ch website when you contact her. The offer is available for 3 months only, from 1 February 2013 to 30 April 2013, so don't delay in making contact!
Judith Lenzin
www.lenzin.com
www.judylenzin.blogspot.com
This email address is being protected from spambots. You need JavaScript enabled to view it.
PATJO Patchwork et Cadeaux
Pâquis 8
1033 Cheseaux
0 21 731 52 91
This email address is being protected from spambots. You need JavaScript enabled to view it.
www.patjo.ch
David'Recherche
Rue Madeleine 5
1003 Lausanne
021 323 16 66