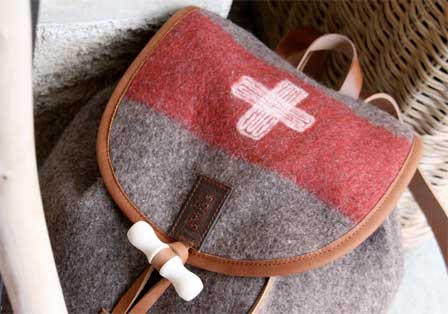 If you are looking for an original Christmas gift that reflects the unique traditions of Switzerland, then we recommend you head on down to the special Open House, being held in Nyon on 29th November, by local design company, Desalpes.
Desalpes designs and produces a wide range of interior and lifestyle items made from authentic Swiss Army Blankets. Now in limited supply, these blankets were produced in Switzerland from the end of the 19th century until the early sixties, and are handmade using pure sheep's wool in a variety of grey-brown shades.
The full collection features a range of original items including footstools, pillows, cushions, bags, pencil cases, purses, keyrings, candleholders, and notebooks – all designed using sections of material from the Swiss Army blanket.
Desalpes founder, Mikée Westerling, told knowitall.ch, "Since the blankets are handmade, each one is unique. Although every blanket has a red band on each side of it, the bands vary in color, with the older ones being slightly more orange than the blankets of the fifties, which are bright red. All bands are adorned with a Swiss Cross, which is made using tiny braids of white wool that are worked into the blanket with a technique called 'felting'. Some crosses are very white and dense, whilst others are thinner, more uneven or smaller and on some, one can still clearly see the braids. In the same way the cross is made, the blankets are signed with the initials of the maker and the year of origin. A few are over 100 years old so you get to see some very old dates! In addition, some blankets have a stainless steel seal with a unique serial number."
She added, "Many of these blankets have been hidden away in cellars for years and years – they are indestructible treasures, made to the highest Swiss quality!"
Asked where she got the idea for her new company, Mikée told us, "I worked as an interior designer in several countries before arriving in Switzerland in 2007. As soon as I discovered the Swiss Army Blankets, I immediately fell in love with them and started making items, first for myself and then my clients."
Recognizing the attraction of using authentic materials, which have "a story to tell", Mikée has since extended her collection to include items created exclusively for Desalpes by another local design company, Karlen Swiss. Although this company focuses primarily on Swiss Folk-Art, this particular range includes items made out of canvas Dutch postbags, which are dated with their year of origin, some as far back as the seventies. Since Mikée is Dutch she is keen to include these items in her product range.
Vistors to the Open House, which takes place at True Colours Place on the Rue de la Morâche in Nyon, will also have the opportunity to purchase pillow covers, bags and purses created from traditional kelim carpets. Following a trip to Istanbul, Mikée couldn't resist the opportunity to work with the diverse range of beautifully colored wool used in these rugs, to add a more bohemian touch to her collection of authentic products with a history.
If you want to make sure you have your Christmas gift in time, you are advised to view Mikées collection online and place your order in advance so that you can pick it up on the 29th.
The Desalpes Company – Live!
True Colours Place
Rue de la Morâche 18-20
Nyon
Switzerland
www.thedesalpescompany.com
This email address is being protected from spambots. You need JavaScript enabled to view it.
079 417 29 71
29th of November,
09h00 to 17h00 and 19h00 to 21h00 hours