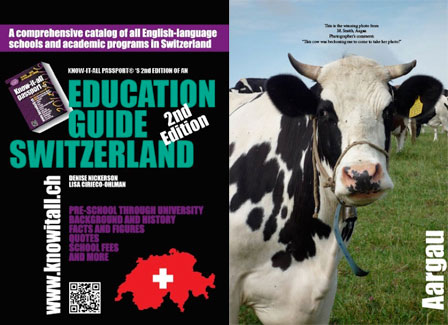 Do you need a photographic challenge?

Would you like to see your photograph published in the 2nd edition of Education Guide Switzerland due out end-of-May this year?

We would like one winning photo per canton. Each photo will be used as a full-page canton chapter separator. See below for rules and prizes. We also have a few extra categories like "Academic Extras", "Just Across the Border", and "Other" which you can explore in the first edition of the book. We would consider entries for those chapters as well.
Canton chapter separator categories:
AARGAU
BASEL
BERN
FRIBOURG
GENEVA
GRAUBUNDEN
JURA
LUCERNE
NEUCHATEL
SCHAFFHAUSEN
SCHWYZ
SOLOTHURN
ST. GALLEN
THURGAU
TICINO
VALAIS
VAUD
ZUG
ZURICH

R U L E S
— Send in 1 photo per email (put EDUCATION PHOTO COMPETITION in subject line) to This email address is being protected from spambots. You need JavaScript enabled to view it. specifying which canton it is for.
— Each photo must have a recognizable name and not a series of numbers and must be digital or scanned. ONLY photos sent by email or through the website will be accepted.
— You must give your name, address, and telephone numbers to be eligible.
— Photos should have something to do with education, schools, universities, or the canton. Views of listed campuses and views from listed campuses are welcome.
— Any photos that include recognizable faces of minor children will require signed permission from parents. Signed permissions are the entire responsibility of the photographer.
— Finished size of photo used will be A5 vertical (148mm x 210mm). Photos will be cropped by Know-it-all passport® publishing to visually fit the page.
— There are no maximum number of photos that can be submitted.
— The better the quality of the photo, the more likely it will be considered.
— Color photographs, please, but not necessary.
— Amateur and professional photographers are welcome to submit their entries.
— All ages can participate.
— We would like to strongly encourage students, teachers, parents, and other members of Education Guide Switzerland listed school and university communities to participate in this competition.

D E A D L I N E : M O N D A Y, 3 1 M A R C H , 2 0 1 4, midnight

P R I Z E S
— Each winner will each receive one copy of Education Guide Switzerland, 2nd Edition hot-off-the-press.
— The winners will be invited on a specific day to come to see the book being printed in Geneva at l'Imprimerie Nationale Rochat Baumann (transport not included).
— The winner's name will be printed along with their photo in Education Guide Switzerland, 2nd Edition.
— The winning photos (and some honorable mentions) as well as a photo of the visit to Imprimerie Nationale Rochat Baumann visit will be published on the website www.knowitall.ch.
— The winners will be notified individually.
— The winners and their photos may also enjoy being featured on various multimedia platforms, including but not limited to Twitter, Facebook, LinkedIn, and Pinterest.

D I S C L A I M E R
Know-it-all passport® publishing holds the right to accept or reject any image. Images that are prohibited include:
— Violent, offensive, anti-social, or death imagery; including any other material that could be perceived as violent.
— Provocative, lewd, or sexual content; including nude, semi-nude, or partially clothed pictures of people of any age.
— Socially unacceptable or discriminatory behavior or signs. For example, gangs, hatred, drug or alcohol abuse, graffiti, profanity, or other obscene behavior or gestures.

Know-it-all passport® and Education Guide Switzerland assume no responsibility for possible fraud committed by any contestant. While every effort is made to ensure that all submitted entries are actually created by their respective contestants, Know-it-all passport® cannot be held liable for actions on the part of the contestants. The contestant must guarantee that the photo is an original of their own. The contestant submitting any photo to the AMATEUR PHOTO COMPETITION FOR EDUCATION GUIDE SWITZERLAND implicitly understands these rules and have read and agreed to them. If a breech of these rules exists, Know-it-all passport® disclaims all responsibility. © January 31, 2014
NOTE: Stay tuned for the AMATEUR PHOTO COMPETITION FOR KNOW-IT-ALL PASSPORT COMING UP SOON...