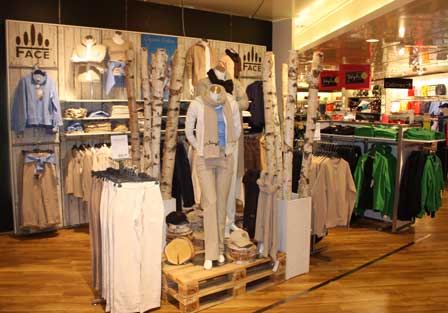 Print off your voucher here and get 10% off all FACE-Lifestyle clothing at Manor Chavannes-de-Bogis between 25 March and 13 April
When retired American basketball player, David Bustion, asked us to help him promote his new range of cool, sporty leisurewear, we were only too happy to help.
As the organizer of the annual International All American Basketball Camp in Geneva, David is well known in the local community and has done much to help promote a healthy lifestyle amongst youngsters in this region. Having played basketball professionally for the Denver Rockets ABA (currently Denver Nuggets) in America, and played and coached for numerous teams in France and Switzerland, he is in an inspiration to many young men and women, especially those who may be thinking about a professional sporting career.
In recent years, David has directed his talents towards developing his own brand of sustainable, organic sportswear. Having worked for a number of different American sportswear brands in the past, including The Game, Russell Athletic, and Spalding, as well as the Icelandic ski brand Don Cano-Davidsson, David decided in 1995 to launch his own brand of "cool", sporty leisurewear called "FACE".
David told us, "The FACE brand is what you might call three dimensional: it can be worn as cool leisurewear, practical sportswear, or healthy "wellness" wear. Conventional cotton-growing is one of the most chemically-intensive farming operations in the world and can lead to massive environmental and health problems. Organic cotton is much more sustainable in the long term, as it uses production processes that have a much lower impact on the environment and is much more in keeping with the FACE brand, which represents relaxed, sporty and healthy living."
On the FACE-Lifestyle website you can see the full range of clothing available, which includes trousers, tops, jackets and accessories for both men and women in natural earth tone colors. Available in sizes S through to XL for women, and S through to 3XL for men, the clothing can be purchased online at the FACE-Lifesyle website, or at the Manor AG department store in Chavannes-de-Bogis.
One client told us (in French) about the FACE garments he purchased over a year ago, "I often wear the T-shirts, either for sport or just to take a walk - they're really comfortable to wear and you can see that the cotton is really good quality as they haven't changed their shape, in spite of numerous washes! My green sweatshirt is perfect for when it gets a bit cooler, either for jogging, or playing tennis, or even going out as it looks really good! Like the T-shirts, it hasn't changed shape even after numerous washes, and the colour remains the same as the first day I bought it!"
To encourage more people to try out the FACE brand, there will be a special promotion at Manor Chavannes-de-Bogis running from 25 March to 13 April. Just print off the discount voucher, which you can find on our Events Calendar, by clicking here. David will also be available to meet people and discuss the FACE brand in Manor on Saturday 30 March, and 6-13 April, from 10h30 to 11h30 and 14h30 to 16h30.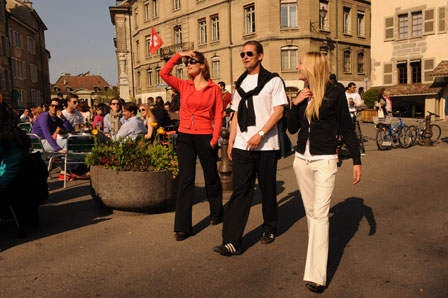 FACE-Lifestyle
www.face-lifestyle.com
Manor AG, Chavannes-de-Bogis
Promotion: 25 April – 13 April 2013