Seize this opportunity to become a volunteer host or sign up to join the group on one of its future tours!
The international singing and dancing group, Up with People (UWP), will perform its latest musical extravaganza at the Salle Communale Lachenal in Versoix on Wednesday 20 and Thursday 21 March, 2013.
Providing young people from around the world with a unique international education experience, Up with People, aims to "bring the world together" through a combination of music and service to local communities. Founded in 1965, the organization has toured more than 4500 communities in 42 countries, performing to millions of spectators worldwide, amongst them an American president, a Spanish king and a pope!
Approximately 100 young artists, aged between 18 and 29 years, will take part in the current show, called VOICES, which represents just one stage in their 6 month tour of the world that started in January in Florida, and will finish in June in Mexico. With representatives from all around the world, the troupe will sing and dance for two hours, bearing a message of peace, hope and tolerance in their music.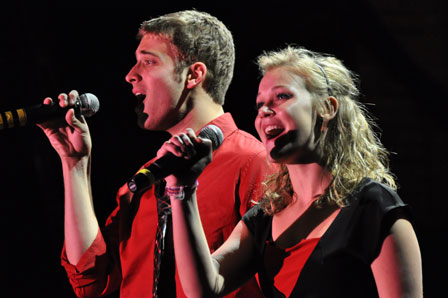 As part of the UWP educational experience, each of the artists in the group will stay with host families in and around Versoix. Arriving on 19 March, they will spend two days preparing and performing in the show, and two more working on a collaborative service project, which in Versoix will involve working with the Ordre de Malte. One day will be spent with their host families, getting to know them better, and experiencing some of the culture in this unique part of Switzerland. Anybody interested in offering their services as a host family is invited to contact the Geneva Host Family Coordinator, Katie Baudler, at This email address is being protected from spambots. You need JavaScript enabled to view it., or visit the website at www.upwithpeople.org/geneva/ for more information.
Alternatively, if this kind of experience appeals to you, and you would like to find out more about getting involved in this special musical group, which runs two tours each year and provides numerous opportunities for getting involved in the performing arts, leadership, service learning and cultural awareness, then you should contact the European Admissions Manager, Sonja Drescher, at This email address is being protected from spambots. You need JavaScript enabled to view it.. Not only will you learn all about the fast pace of show business, but you will see for yourself how various small acts of service can make such a difference to local communities – all while you earn valuable credit points towards your university course!
Tickets for the show in Versoix can be purchased from the UpwithPeople website at: www.upwithpeople.org/geneva/. You may also buy tickets at the box office on the night of the performance. However, Up with People cannot guarantee ticket availability and certain performances may be sold out.
Salle Communale Lachenal
12 route de Saint-Loup
1290 Versoix
Geneva
20-21 March, 2013, 19h30
40 CHF – General Seating
60 CHF – Preferred Seating
www.upwithpeople.org/geneva/
UpwithPeople
www.upwithpeople.org
Host Family Coordinator: Katie Baudler, This email address is being protected from spambots. You need JavaScript enabled to view it.
Advance team (French): Isabel Belliard, This email address is being protected from spambots. You need JavaScript enabled to view it.
Advance Team (English): Lorna Murphy Durran. This email address is being protected from spambots. You need JavaScript enabled to view it.
Admissions Manager: Sonja Drescher, This email address is being protected from spambots. You need JavaScript enabled to view it.
www.ordredemalte.org