Enter our competition to win a double ticket for the opening night performance!
Another year comes and goes and before we know it, pantomime season is upon us again! This year, the Geneva Amateur Operatic Society has chosen to perform a lively and colorful rendition of "Puss in Boots" at the Théâtre du Léman in Geneva from 2-4 December 2016.
For those of you who have forgotten the story, here is a quick reminder: In his father's will, Jack has been left penniless, inheriting nothing but the family cat. Although he has great ambitions, the prospects are not good! Things soon change with the arrival of his Auntie Hettie, etiquette expert extraordinaire, and the revelation that Puss can talk (and looks pretty fetching in a pair of boots)! Before long, Jack, Auntie and Puss are embroiled in a complex scheme to persuade the King and Queen that Jack (masquerading as the Marquis of Carabas) is suitable husband material for the beautiful Princess. But first they will have to contend with a jealous noble suitor, a pair of dastardly henchmen, and a hideous shape-shifting Ogre!
According to those involved in this year's hilarious production, Puss in Boots is packed with laughs for both adults and children, as well as catchy music, dancing and a live band!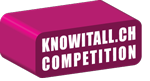 To help readers get into the festive spirit, GAOS has kindly offered knowitall.ch one double ticket for the opening performance of Puss in Boots on Friday, 2 December, at 20h. To enter our competition and give yourself a chance of winning this ticket, just fill in this form and let us know who has inherited the family cat in his father's will.
Only one entry per person and per email is allowed. The competition closes at midnight on Wednesday, 23 November 2016. The names of all those submitting correct answers will be placed into the digital hat and the winner's name drawn at random on Thursday, 24 November 2016. The winner will be notified by email and his/her name will be added to this article after the competition closes.
Tickets are priced from Fr. 29.- and can be purchased as follows:
Book from Saturday 5 November by going to www.theatreinenglish.ch. Choose the date and time of the performance you wish to attend, pick your own seats and then pay either by secure credit card payment or by e-banking/bulletin de versement. Once your payment has been received, you can print your tickets at home.
Book from Saturday 5 November directly at a Swiss post office by bulletin de versement payable to: Theatre in English, 1200 Geneva, CCP account 12-20568-3. In the box marked Motif de versement, you must indicate: the date(s) and time(s) of the performance(s) for which you are booking; the number of seats required and the price; your e-mail or daytime phone number. As soon as your payment is received (it can take four days or more) the best seats available will be allocated to you. Your tickets will be held for you for collection at the theatre box office.
Telephone from Monday 28 November on 022 575 25 82 weekdays between 16h30 and 17h30.
Buy your tickets at the theatre (cash only) on the night from 60 minutes before the show.
Tickets can be neither changed nor refunded.
Puss in Boots, performed by Geneva Amateur Operatic Society
Théâtre du Léman
Quai du Mont-Blanc 19
1201 Geneva
www.gaos.ch
Friday, 2 December, 2016: 20h
Saturday, 3 December, 2016: 14h or 18h30
Sunday, 4 December, 2016: 15h
Congratulations to our winner, Hilah Smith-Kato!
Save
Save
Save
Save
Save
Save
Save
Save
Save
Save
Save
Save
Save
Save
Save