Enter our competition to win a free double ticket for the opening night on 1 March 2016
The Geneva English Drama Society will present the Pulitzer Prize-winning drama, Rabbit Hole, at the Théatre de l'Espérance in Geneva from 1 to 5 March 2016.
GEDS' first production of the year, Rabbit Hole premiered on Broadway in 2006 and won the Pulitzer Prize in 2007. Written by David-Lindsay Abaire, the play deals with the issue of loss within the family and, according to Variety magazine, is "not just a drama but a revelation – an intensely emotional examination of grief, laced with wit, insightfulness, compassion and searing honesty."
So, how do you keep it together when your whole world has fallen apart? Becca and Howie Corbett have everything a family could want, until a life-shattering accident turns their world upside down and leaves the couple drifting perilously apart. Rabbit Hole charts their bittersweet search for comfort in the darkest of places, for a path that will lead them back into the light of day.
The cast features many popular names from the GEDS scene, including Cécile Van de Voorde who plays Becca, and Chaitan Jain who plays Howie, as well as Noelle Rentsch, Gemma Parkes and Daire O'Doherty.
Online booking for tickets opens at www.theatreinenglish.ch on 9 February 2016. Numbered seats are priced at just Fr. 30.- each, but students can buy tickets at the theater on the night of the show, on presentation of their student card, for just Fr.. 20.-.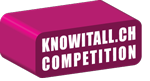 The opening night performance on 1 March 2016 will include a free glass of prosecco for all members of the audience after the show. So we are particularly lucky to be able to offer knowitall.ch readers the chance to win a double ticket for this night! To enter the competition, just fill in this form and let us know in which year Rabbit Hole won the Pulitzer Prize.
Only one entry per person and per email is allowed. The competition closes at midnight on Wednesday, 24 February 2016. The names of all those submitting correct answers will be placed into the digital hat and the winner's name drawn at random on Thursday, 25 February 2016. The winner will be notified by email and his/her name will be added to this article after the competition closes.
Rabbit Hole by Geneva English Drama Society
Théatre de l'Espérance
Eaux-Vives
Geneva
1-5 March 2016.
Tuesday to Friday 20h; Saturday 19h
Info: www.geds.ch
Tickets: www.theatreinenglish.ch
Congratulations to Emilie Perkins, who won the double ticket!