The Geneva English Dramatic Society invites you to their first stage performance of the new year: Baby with the Bathwater, written by Christopher Durang, one of America's most provocative and inventive writers.
Described as a comedy about surviving those who love you very badly, Baby with the Bathwater provides an amusing insight into the lives of new parents, Helen and John, who are not quite sure what to do with their newborn. What should they name it? What should they do when it cries? How should they deal with a deranged Nanny, a baby-snatching houseguest, and a slavering German shepherd with a penchant for eating babies? All the usual parenting dilemmas!
Baby with the Bathwater follows Helen, John, and, Daisy, through the trials and tribulations of Daisy's first thirty years: school, family disputes, and narcissistic authority figures. Adultery, kilt-wearing, and maladaptive coping mechanisms. Booze, buses, and The Brothers Karamazov. To name just a few.
Directed by Viki Lazar, this outrageously humorous play features many local amateur actors and actresses, including Rachel Benyair, Gary Bird, Annelies Bouissou-Breman, Ciara Goldstein, Minzi Lam Meier, Susan Leather, Masha Neznansky, Charles Slovenski, Sonja Steidle, and Rosie Watley.
Baby with the Bathwater will be held at the Théâtre de l'Espérance in Geneva from Tuesday, 11 March until Saturday, 15 March. Numbered tickets are priced at Fr. 30.- for adults, or Fr. 20.- for students on presentation of a student card.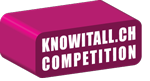 GEDS has kindly offered knowitall.ch a double ticket to see the opening performance of the show on Tuesday, 11 March. To give yourself a chance of winning this pair of tickets, just fill in this form and let us know who wrote the play "Baby with the Bathwater". The competition will close at midnight on Thursday, 6 March, 2014. Only one entry per person is allowed. The names of all those submitting correct answers will be placed into the digital hat and the winner's name drawn at random on Friday, 7 March. The winner will be notified by email and his/her name will be added to this article after the competition closes.
Baby with the Bathwater
Théâtre de l'Espérance
8 rue de la Chapelle
1207 Geneva
Tuesday, 11 March until Saturday, 15 March
(weekday shows at 8pm, Saturday show at 7pm)
www.geds.ch/prod/baby/baby.htm
Tickets: Fr. 30.- (seats numbered)
• Book on www.theatreinenglish.ch from 16 February, choose your own seats, pay by credit card or bulletin de versement / e-banking, and print your own tickets.
• Book from 16 February at a Swiss post office using a red bulletin de versement payable to Theatre in English, 1214 Vernier CCP 12-20568-3. In the motif versement box specify the date and number of tickets and your daytime phone number or email.
• Call GEDS weekdays from 10 March from 11h to 12h30 on +41 22 341 51 92. Reserved tickets that are unpaid will be released 40 minutes before the show.
• Buy your tickets at the theater (CASH ONLY) on the night from 60 minutes before the show (check by phone or website if seats are available). Students Fr. 20.- on presentation of student card.
Photo credit: David Pittuck
Photo caption: Actors rehearsing Helen and Cynthia's parenting disagreement, while Nanny and John look on. Actors from left to right are: Masha Neznansky, Annelies Bouissou-Breman, Gary Bird, and Rosie Watley.
Congratulations to our winner, Corinne Buck!