For the past 120 years, La R'vue genevoise, has been one of the most popular satirical plays in Geneva, currently attracting over 20,000 spectators each year.
Held in the beautiful Casino-Théâtre in Carouge, La R'vue genevoise features the political, economical and social highlights of the past year on a local, national and international basis, through sketches, songs and various choreographies. This year, the show opened on Saturday, 2 November, and will continue through until Tuesday, 31 December.
For the first time in history, this emblematic theater play will be performed in English, broadening its appeal yet further to the English-speaking community of Geneva. There will be three English shows in total, one on Friday 13 December at 20h00 and two on Saturday 14 December at 14h30 and 20h00. (Editor's update: Saturday 14h30 performance has now been cancelled).
To bring this special version of the show to our community, fellow writers and producers, Philippe Cohen and Gaspard Boesch, founders of the acclaimed Confiture Company in Geneva, have been working closely with Majbritt Byskov-Bridges and Steve Ash, both comedians and singers, who perform regularly with GAOS, the Geneva Amateur Operatic Society.
Tickets for the English show are available now at various locations throughout Geneva. Click here to view the full list of ticket offices. Ticket prices vary from Fr. 20.- to Fr. 65.-, with additional concessions for students, and others.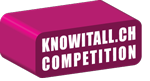 Since this is the first time that La R'vue genevoise has been performed in English, the organizers have kindly offered knowitall.ch clients the chance to win one of 5 double tickets being offered for the evening performance on Friday, 13 December. To enter the competition, just fill in this form and let us know how many years La R'vue genevoise has been performing in Geneva. Only one entry per person allowed. The competition closes on Monday, 9 December at midnight. The names of all those with the correct answer will be placed the in the digital hat and the winners' names will be drawn at random the following day. The winners will be notified by email and their names published at the bottom of this article.
La R'vue genevoise
Casino Théâtre
Rue de Carouge 42
022 418 44 00
www.larvue.ch
Click here for English flyer
English shows:
Friday, 13 December at 20h00
Saturday, 14 December at 14h30 and 20h00 PLEASE NOTE THAT THE SATURDAY 14H30 PERFORMANCE HAS NOW BEEN CANCELLED
Photos copyright of David Naldini
Congratulations to the following winners who each won a double ticket to see the show:
Daniel Mensik
Stephen Causby
Geraldine Scherrer
Kristof Szabo
Catalin Vaitis