Enter Les Cinémas Capitole's weekly draw to win free tickets to their Tuesday Movies English films throughout June (see below)
Following the recent installation of digital projectors at Les Cinémas Capitole in Nyon, it will now be possible to view yet more English movies at this popular local cinema.
Under the programme heading, Tuesday Movies, the cinema will now show on every Tuesday evening an English-speaking film that has not been shown at the cinema in Nyon before. To introduce the new initiative to the local community, and to encourage more new customers to try out its cinemas, the programming team is offering knowitall.ch clients the opportunity to win one of 10 free tickets being offered to us for each of its four Tuesday Movies running throughout the month of June.
The first 10 tickets on offer will be for the popular 3D version of Titanic, which will show in Nyon on the evening of Tuesday 5 June. If this film doesn't appeal to you, then there will be more opportunities to win free tickets for The Iron Lady, My Week with Marilyn, and Mirror Mirror later in the month.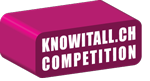 To take advantage of this special offer just click on the Tuesday Movies icon that will appear in the central column of the home page of our website throughout June, and submit your details. The first 10 names we receive for each film will receive details on how to collect their tickets before the show - so enter your details now to be sure of a chance of winning!
In addition to its Tuesday Movies, Les Cinémas Capitole will also show late each Thursday evening and early each Saturday evening the original English version of any film being shown in French during the week. This means that there will be the possibility of watching two different English-speaking films during the week, one on Tuesday, and another on Thursday or Saturday.
Reopened under new management last year, the Cinéma Capitole in Nyon is conveniently located just a few minutes walk from Nyon station, and has easy parking nearby at the Place Perdtemps. It has 2 auditoriums, one with 219 seats, the other with 89 seats.
Les Cinémas Capitole
5, rue Neuve
1260 Nyon
022 566 3071
www.capitole-nyon.ch