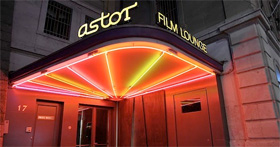 A new cinema has opened in Geneva, which adds a touch of class to your usual cinema experience.
The Astor Film Lounge offers valet parking to its customers, a welcome cocktail with appetizers, a cloakroom to offload unwanted coats, and comfortable leather seating with adjustable backs – not to mention state-of-the art film projection.
Apart from film previews, animated short films and original Swiss movies, there will be no advertising or intervals during each show - so you can sit back and enjoy the full cinema experience without any distractions.
The cinema also runs a number of theme evenings and will present opera, ballet and theater plays broadcasted in high definition from all over the world.
In addition to the main cinema, there is also a bar where you can enjoy vintage wines, a wide variety of alcoholic and non-alcoholic cocktails, or champagne, all served with an interesting range of delicious aperitifs. The bar is also open to guests outside the normal film projection hours.
Private parties can be arranged at the cinema – the bar as well as the cinema are reserved entirely for the client, and decorated as required. The cinema is equipped to present any film of your choice.
For further information:
ASTOR FILM LOUNGE
17, rue de la Corraterie
1204 Genève
Phone : 022 566 11 00
Fax : 022 566 84 57
Email :
This email address is being protected from spambots. You need JavaScript enabled to view it.
Website:
www.astor-filmlounge.ch
Opening hours: 30 minutes before the first showing
Closing hours: Mon-Tue-Wed-Sun. at 12pm, Thur-Fri-Sat. at 2am