Enter our competition and win one of 6 double tickets for CinéAir performances being screened this Summer!
Following the huge success of its open air cinema in Nyon, CinéAir is opening a second open air cinema in the region this Summer.
Located at the Place du Château in Rolle, the new cinema will feature daily performances of popular recent films between 2 and 21 July 2013. Following a short break of about a week, performances will then resume from 30 July to 25 August at CinéAir Nyon, at the Esplanade « La Combe ».
Both cinemas will feature a large selection of English films, many of which will be screened in their original version. Look out for : Man of Steel ; The Great Gatsby ; Side Effects ; The Place Beyond the Pine, The Bling Ring ; Oblivion ; The Hangover Part III ; Quartet ; The Heat ; Star Trek ; RED 2 ; Wolverine ; and Pacific Rim, to name but a few !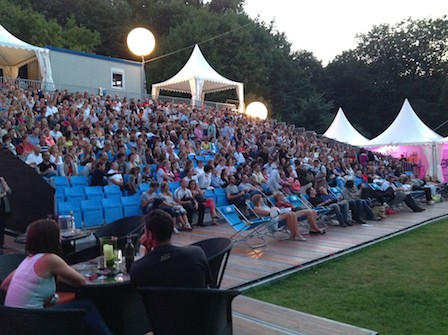 The standard price for tickets is Fr. 17.- for 2D films and Fr. 19.- for 3D films, but student reductions are available (Fr. 15.- and Fr. 17.- resectively). A batch of tickets for 3 separate performances can be bought at the discounted price of Fr. 39.-. Subscribers to La Côte journal, members of the Harmony Fitness Club, and Raiffeisen account holders are also eligible to a special discount, and need pay only Fr. 14.- per ticket (Fr. 16.- for 3D films).
The opening preview performance of « Le Grand Méchant Loup » at CinéAir Rolle will be shown on 2 July at 21h30. There will be a special viewing of the Rigoletto opera by Verdi on 9 July, transmitted live from the Euro Mediterraneo Festival of Taormina. To mark the occasion of Swiss National Day on 1 August, there will also be a one-off, free performance of Rolling Stones's unforgettable concert, filmed at the Will Roger Memorial Center in Fort Worth. To view the full Summer program of open air cinema shows, which includes a number of "Avant Premières", visit the CinéAir website at www.cineair.ch.

CinéAir is giving knowitall.ch clients a wonderful opportunity to win one of three double tickets being offered for CinéAir Rolle or one of three double tickets for CinéAir Nyon. Tickets may be used for any screening, subject to seats availability, but are not valid for the special screening of "Rigoletto" on 9 July.
Just answer the simple question in our competition form, and let us know who you would like to bring, and which cinema you would like to visit. Only one entry per person is permitted. The competition closes at midnight on Friday, 5 July, 2013.
CinéAir ROLLE
Place du Château
2 - 21 July, 2013
CinéAir NYON
Promenade d'Italie, Esplanade « La Combe »
30 July - 25 August, 2013
www.cineair.ch
Information from 19h, call 079 610 23 09 / This email address is being protected from spambots. You need JavaScript enabled to view it.