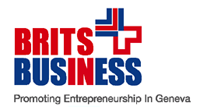 www.britsinbusiness.ch
This email address is being protected from spambots. You need JavaScript enabled to view it.
022 918 24 78

Brits in Business is a dynamic networking group where individuals help each other to generate business opportunities and offer advice and assistance on how to set up or develop new enterprises.

It focuses on the British entrepreneur, but is open to all British people and Anglophones in business. There is a strong element of networking rather than formal business.

Brits in Business was created in 2005 by the British Consulate in Geneva and a group of British entrepreneurs who felt they lacked a forum to learn from other entrepreneurs, to share business ideas and to make new contacts.

Events include elevator speeches and guest speakers who are invited to share their experiences in an informal setting at a venue in Geneva. These take place during the early evening and are publicised on the Brits in Business website and by e-mail.
Objectives:
To actively connect the British entrepreneurial community through social and business events and allow members to network in an informal and relaxed environment.
To expand members' commercial links
To operate a "buddy" system, giving practical support for new businesses setting up in the area
To enable Anglophiles to meet like-minded people for business and social interest
To facilitate contacts between British businesses and the local community

Annual membership fees:

There is no annual membership fee. Instead a small fee is charged to cover the cost of hosting each event. Any profits made from events are donated to local charities.