by Tara Lissner, Swiss Gardening School
Welcome back to the garden. The long hot summer is coming gently to a close and we are all getting ready for the next season. The gardening blog has been updated and you can read more from it via this link my swiss garden blog.
What's on

Green Harvest Autumn Market, Founex Tennis Club, 26-28 September
Thursday 26 15:00-21:00, Friday 27 09:00-17:00, Saturday 28 09:00-12:00
This is the third green market founded by local resident Sophie Bayliss who brings together small companies trying to find sustainable alternatives in our everyday lives. My swiss garden will be there with recycled pots and containers filled with herbs and bulbs for the autumn, as well as beautiful seeds from Grace Alexander Flowers, drop by to say hello!
Green Harvest Autumn Market
Marché aux plantes, Arboretum, Sunday 29 September, 10:00-17:30
If you haven't already visited this is the perfect opportunity to spend some time at the beautiful Arboretum above Allaman. This small plant fair is in its fourth year and attracts a number of well-known local growers, this is the perfect time to be thinking about adding perennials, shrubs and roses to the garden. Activities for kids are organized, yummy snacks. lunch and drinks are available for purchase.
Arboretum
Déjeuner sur l'herbe, Château de Prangins, Sunday 29 September, 10:00-18:00
The annual garden picnic takes place in the grounds of the Château. A number of activities take place around the beautiful walled kitchen garden where you will find Hester. Bring your own picnic or purchase from the many vendors present, you are encourage to bring your own containers to reduce waste. There is even an open fashion parade from 15:00-16:00 all you need is your 18th century outfit! Sign-up on-line in advance or on the day in person until 13:00.
Château de Prangins
Jardin des cinq sens, Yvoire, 16 September-6 October
This stunning walled sensory garden in Yvoire remains open this autumn with slightly reduced times. There is still lots to see and it's well worth a visit before it hibernates for the winter. (no dogs)
Jardin des cinq sens
Workshop Plantes d'hiver & Jardinière, Chéserex, Wednesday 9 October 10:00-14:30
In collaboration with Marie-Claude Holdener of L'Heure du Thé (whom many of you will know from Jardins en Fête) we will run a small workshop on winter containers. Participants will learn how to keep their pots looking good all season and will leave with their own plant-filled container. Cost is Chf 100 including a light lunch. Places are limited, to book a spot email This email address is being protected from spambots. You need JavaScript enabled to view it.
Château de Vullierens, Vullierens sur Morges, weekends until 27 October
The autumn colours at the Château are coming into their own now and the gardens are open only on Saturdays and Sunday until the end of October. Full details of opening times can be found on their website. Don't forget that RHS members can gain entry for free with a membership card, this is the first Swiss partner garden of the RHS.
Jardin des iris
Les quais du dahlia, Morges, until end October
Over 2,250 dahlia tubers of 100 varieties have been planted along the lake front in Morges. A map and plant list is available on line or at the tourist office in Morges. Check out this free spectacle until the end of October.
Morges dahlias
Courses
The Swiss Gardening School will launch its autumn and winter season of courses in October.
Author's bio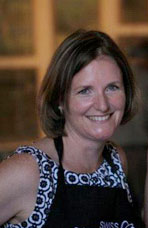 An enthusiastic, self-taught gardener, Tara Lissner is passionate about gardening and eager to share her zeal and knowledge with other gardening fans.
In 2012, she joined forces with Hester Macdonald, a British-trained landscape designer, to launch the Swiss Gardening School.
(Photo by Jean-Luc Pasquier)
Swiss Gardening School
www.swissgardeningschool.com