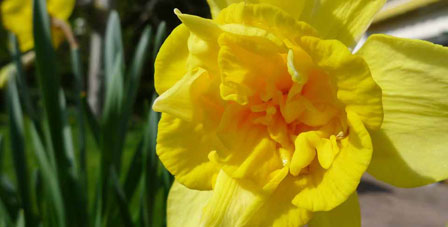 By Tara Lissner, Swiss Gardening School
At long last spring has arrived. Once the time changes it really is all systems go for those of us who love to garden. That extra hour of daylight from the end of March followed by those incremental minutes every day make all the difference. Warm sunshine, a drop of rain and all that light mean that there is a lot to do.
Timely tips
Lawn care is at the top of my list; starting with an initial cut, just taking the tops off means that growth is encouraged while also protecting the young shoots from the potential damage of frost. Then taking a good hard look at the situation, too many weeds, masses of moss, easily identifiable worn patches and then moving toward a plan of action, selective weed killer, lawn sand and perhaps a new path or a small set of steps.
Next on the list is pruning. Having provided spectacular red stems over the winter the dogwood shrubs cornus sanguinea really need some significant work. I've been renovating long neglected shrubs for the past few years taking out a third of all growth from the base each time so as not to shock the plant. This year however I've decided to coppice them completely (cut them back to the ground). This will allow the other smaller plants surrounding the dogwoods extra light this spring. I've also been clearing my perennial beds of the old stems left standing from the autumn - I leave them as long as I can as they add a bit of height and interest during the winter and look especially nice when covered in frost. New growth has started so the time to do that job is now.
Planning the vegetable plot is a fun task, thinking about the successes (or failures) of last year and identifying new varieties to try. My go to selection has to include french beans, courgettes and tomatoes. Garden centres and nurseries are packed with seeds now all you have to do is choose and sow - have fun.
What's on
There are plenty of shows and plant fairs to keep busy with just in case you need time away from the garden:
Fête de la tulipe, Morges, until 17 May
If you haven't already been, well worth a visit.
http://www.morges-tourisme.ch/fr/page.cfm/fete-de-la-tulipe
SwissDays, Arboretum, Aubonne, Sunday 19 April
The aboretum in Aubonne spotlights three cantons this year beginning with Lucerne, as before reservations are essential for lunch.
http://www.arboretum.ch/
Les Journées des Plantes d'Aiguebelette, 25-26 April
http://www.plantes-jardins-paysdesavoie.info/index.html
Les Bucoliques, Abbaye de Salaz, above Monthey, 25-26 April
http://lesbucoliques.ch/
Rendez-vous au jardins, Château de Prangins, Sunday 3 May 10-00-17:00
Hester will run workshops at 11:00, 12:00, 14:00 and 15:00 all about growing fruit in small spaces, town and city gardens and on terraces
http://www.nationalmuseum.ch/f/prangins/
Jardins en fête, Coppet, 8-10 May
We are very excited to once again exhibit at this wonderful local event this year celebrating it's 10th anniversary. We'll be in our usual spot to the left as you entre the main garden and again this year we will run short workshops on lawns, pruning, colourful pots and gardening with kids. Do stop by we'd love to see you.
http://www.jardinsenfete.ch/
Jardin de cinq sens, Yvoire
This delightful walled garden reopened for the season on 10 April, always a delight, see their beautiful new website for full details
http://www.jardin5sens.net/en/
Schilliger, Gland
Now open 7 days a week until 31 May
http://www.schilliger.com/
Courses
The Edible Garden - Vegetables, Thursday morning 23 April, 09:00-13:00, Founex
All about vegetable gardening no matter how much space you have. Learn how to plan your vegetable garden, discover the best plants to grow for this area and where to find the greatest selection of seeds and plug plants. We'll even show you how to integrate vegetables into your flower beds.
http://swissgardeningschool.com/events/the-edible-garden-vegetables-3/
Pruning Techniques, Monday evening 27 April, 18:30-22:00, Founex
Everything you needed to know about pruning you will learn at this course. Sponsored by FELCO, we will teach you the why, when and what to prune in your garden. With photos of your plants you'll get the best advice from our experts including from our British-trained arborist.
http://swissgardeningschool.com/events/evening-course-pruning-techniques-3/
I hope you manage to spend some time in your garden this weekend.
Warm regards,
Tara
Author's bio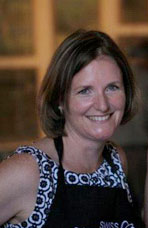 An enthusiastic, self-taught gardener, Tara Lissner is passionate about gardening and eager to share her zeal and knowledge with other gardening fans.
In 2012, she joined forces with Hester Macdonald, a British-trained landscape designer, to launch the Swiss Gardening School.
(Photo by Jean-Luc Pasquier)
Swiss Gardening School
www.swissgardeningschool.com