By Sunita Sehmi, Walk The Talk
Anthony Levene is the Director of AMATA SA with twenty years' experience producing and directing TV commercials, corporate films, and through-the-line marketing and internal communications campaigns for leading international brands.
Operating in Switzerland and the UK, he works with a highly experienced and talented team to deliver two distinct services to clients worldwide: Production Services and Bespoke Communications.
Film production services in Switzerland range from TV commercials, web and corporate, to TV documentaries and feature films - at all levels of budget whether it be a shoot downtown or up the highest mountain peak.
Recently Anthony and his team fully serviced a complicated glacier shoot for Nike featuring two US Olympic athletes and they also ensured that the Oscar-winning director, Alejandro Gonzalez Inarritu, created a powerful Nike film featuring Roger Federer.
I caught up with him about his move to Switzerland from the UK, the trials and tribulations of being local and global. I hope you enjoy the interview as much as I did.
Tell us a little bit about yourself.
I've lived in Geneva (Anieres to be precise) for about 8 years. Before that I lived and worked in London for 20+ years. I'm married with twin sons and have worked in film/video production and media communications for 29 years as a producer/director/writer. If you have ever seen a guy dressed as Elvis on the ski slopes (there can't be that many), it was me! Don't ask me why. I think it's an English obsession.
How did you end up in Switzerland?
My wife works with her family in Geneva and after she recovered from a bad illness while we were living in London, we decided to move to Geneva to reduce her travelling and stress (and increase mine!). We were happy in London, and the move was for negative reasons, but it's been the best move we ever made.
What got you into filming?
My mother was a film and TV actress back in the 60's and 70's. She's still very eccentric! In my teens, no doubt influenced by her, I felt the calling myself. But photography and shooting/editing videos became my passion. If I were in my teens now I think I would be a 'YouTuber'.
Could you tell us more about Amata?
Amata is a 'boutique agency' that specialises in producing commercials and corporate films for international companies and advertising agencies. We also provide bespoke marketing communications services including website, print and advanced PowerPoint design, as well as media/presentation training. We work from brief through to concept, production and delivery for clients directly, or we produce films via agencies.
What is the best piece of advice you ever got?
Move to Geneva. It would have been all too easy to stay in London, but swimming against the tide has been an invigorating and very positive experience.
How do you see the film industry going in the future?
In the media communications/advertising business, there was a time when we worried that the demand for high quality commercials would die because the Internet would encourage an appetite for low-end video. In reality, people's tastes for high quality storytelling, originality and production values have not diminished, and I don't believe they ever will. Attention spans have greatly reduced, to a point where there is little difference between a commercial and a corporate video in terms of length and quality. The need for producing original, creative content has never been greater for a brand or an internal message to stand out from the crowd and make an impact.
What's the next challenge for film production?
We are receiving increasing requests from producers in Asia, USA and Europe to shoot scenes for their films or commercials in Switzerland. Whilst Amata has been accustomed to servicing international productions for many years, the requests are coming from farther and wider around the globe. In September we will shoot a commercial for a Japanese client. Combining international crews and cultures can be a challenge when filming on set (especially if the set is at 3,500 meters), but it's the reason why we love working in the business.
What's next for you?
I have co-written a screenplay for a film that I would dearly like to direct. Sometimes it feels like the elephant in the living room - at the top of my to do list. The working title is 'A Fairy Tale' - a comedy about a band of Irish gypsies who descend on a picture postcard English village for an anarchic wedding. Excuse the lift pitch...
In a story of freedom and mistaken identity they smash its prejudiced facade to pieces, and as a tender, innocent love grows between a gypsy girl and a village boy a fatal countdown begins.
Coming soon, to a field near you!
For more information about Amata and their services:
Production services
Bespoke communications
Moving Images Online Advanced
PowerPoint
Print Media
Presentation training
Please contact Anthony at http://www.amata.net/contact.html
Sunita's Bio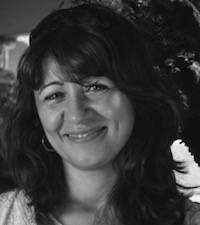 Sunita is an Executive Coach, Trainer and Consultant. She is of Indian origin and was born in London before moving to Geneva in 1992. She has a Psychology background (specialising in Occupational Psychology) and a Post Graduate in the Development and Training of Adults. She also completed a Masters in Ressources Humaines, Coaching et Gestion des Carrières at the University of Geneva.
During her 25 years experience Sunita's drive has always been to help people to do their best and hence led her to create Walk The Talk.
In her free time Sunita is a Mentor for the Branson Center of Entrepreneurship and a proud member of the School in The Cloud Team.
Save
Save
Save
Save
Save
Save
Save
Save
Save
Save
Save
Save
Save
Save
Save
Save
Save
Save
Save
Save
Save
Save