By Sunita Sehmi, Walk The Talk
As we go through life, we may all from time to time experience challenges that can sometimes feel too difficult or overwhelming to cope with alone. These could be anything from relationship difficulties, bereavement or loss, cultural issues, depression, anxiety, managing stress, problems at work or low self-esteem. Whatever the issue, having a safe, supportive and confidential space to be able to talk through and explore these feelings can help you understand more about yourself. Gaining insight into your past and present way of being can lead to acceptance of who you are, and growth, and enable you to find new ways forward.
I was lucky enough to sit down with Sonia Vohra a professionally qualified and experienced Integrative-Relational Counsellor.
"There is no shame in seeking help because mental health is just as important as physical health."
Tell us about yourself, your childhood, growing up, etc.
I was born and brought up in North London. I have an older sister and a younger brother. When I was 8 years old my father died. This was a massive loss to our family and devastated us all in different ways. Historically in our culture, widows were expected to throw themselves on the funeral pyre with their deceased husbands, as they were not valued in their own right. Although times had changed and this was not expected of my mum, as a family we felt quite isolated and felt we did not hold the same credibility in society due to the significant male figure of our household no longer existing.
What got you into counselling?
My children were growing up and I started to anticipate that they were soon going to move on with their lives leaving me behind with no real focus. I was getting older and decided that I needed to make some changes for myself. I knew I needed something more. I enrolled on a one year part time counselling course which began to open my eyes to a whole new world. I then enrolled on the BA Honours in Integrative-relational counselling which was amazing. My self-exploration through the three years following allowed me to understand more about my experiences and how I came to be. I am always looking to learn more and continue to attend training courses and workshops for personal development. I am a psychotherapist running my private practice as well as working for a charity and a NHS GP practice. I also provide supervision and support for staff members in schools.
What did you learn about yourself and about other people?
I am always learning new things about myself and other people. I have learnt how my past experiences as a child have affected who I am today. I started to notice how some of my patterns of behaviour seep into many relationships and how I consciously or unconsciously have learnt to be. This has enabled me to understand more about myself and allowed me to make changes in my life. I have started to understand and take responsibility for the way I am and also realised how I have internalised my experiences as a child, which have influenced me as an adult. I am now more accepting of myself and how I feel, I am 'good enough' the way I am.
Your speciality is diversity and difference, could you tell us a bit more about that.
When I was growing up, I experienced subtle racism as a child. I remember a friend once telling me that her mother didn't generally like Indians, but she thought I was okay. I remember feeling pleased and not offended by this comment, as I felt accepted despite my difference.
Based on my past and my experience of being the only Asian trainee on my degree course, in my final year I decided to do my research on 'how counsellors handle difference and diversity in intercultural relationships.' I felt there was little to no training on difference and diversity and I was very interested in how other therapists worked with clients who were different to themselves. I discovered that what is really important as a therapist when working with clients is the need to be open to anything and everything a client brings into the room. This could be gender, colour, race, sexuality, disability, religion, socio-economic background or anything else. We are all different and it is important for the therapist to be interested, understanding and exploratory of a person's belief systems. This comes from their past and present experiences and influences who they are today, in the here and now and in the room with you. My approach to counselling is about building a strong and accepting relationship with my client so we can explore anything together, safely and without judgment.
Could you share some of your strategies that we could use to keep more balanced?
We can all benefit from being more mindful. Mindfulness is about increasing self-awareness. It can be done anywhere and at any time. Often people view mindfulness as a form of meditation. This is not necessarily the case. Mindfulness is about having more moment-to-moment awareness of your experiences in a non-judgmental way. It is about noticing what you are thinking and how you are feeling in the present and being accepting of these thoughts and feelings without beating yourself up about them. This self-awareness can be a very powerful tool.
Why do you think there is such a stigma in our society about mental health?
Mental health needs to be given equal credibility to physical wellbeing. If someone was to break their arm, they could go to a doctor and have it treated. They can have their arm put in plaster and others can see the injury. Mental issues cannot be seen. They are not visible to the eye and therefore can be discounted.
Ruby Wax, a popular comedian and actress, has suffered from depression for most of her life. She talks about her own depression and uses her platform to bring awareness to mental illness. Deepika Pudukone, a famous and successful Bollywood actress, also talks openly about her experience of dealing with depression. She is trying to change the perception and eradicate the stigma attached to mental health in India. The website 'Time to Change' is about ending mental health discrimination. People such as Alistair Campbell, Derek Martin, Frank Bruno, Rebecca Front and Stephen Fry all talk about their experiences of mental health issues.
What's the next challenge for us?
I think we need to break the silence and begin to talk openly about this issue. There is no shame in seeking help because mental health is just as important as physical health. If we start to acknowledge this more openly now, then we are investing in a better world for our children. Human contact and connectedness is important for survival. Also, with the impact social media now has on our lives, we could be creating a lonelier world for the future resulting in increased mental illness.
What's next for you?
I guess what is next for me is to continue doing what I do. I love my profession. I am always learning new things about people, as each person is unique in their own way. I want to continue learning and discovering more about myself and others.
Currently, I offer individual face-to-face counselling as well as telephone counselling to clients at my private practice. I use an integration of different theories as well as mindfulness and Cognitive Behavioural Therapy (CBT) to support the way I work. However, what is more important is the relationship built between my clients and me. We look at the past as well as the present and work with how the client has learnt to be. Through exploration, we can start to understand and unravel conscious and unconscious beliefs. This results in change and finding new, different and more fulfilling ways forward.
ABOUT Sonia
Sonia is a professionally qualified and experienced Integrative-Relational Counsellor. This means that she draws on a range of different theoretical approaches, such as humanistic, psychodynamic, CBT and mindfulness, to support the way she works. These are adapted and integrated to suit each client's individual needs. Most importantly, she believes that if the relationship built feels trusting and supportive, this can enable safe exploration of difficult feelings and lead to greater insight and finding new ways forward.
In addition to running her private practice, she works in a counselling centre in Kingston and in a NHS GP practice in Surbiton. She offers individual, face-to-face counselling in the South Kensington, Hampton and Surbiton areas.
She is a registered Member of the British Association for Counselling and Psychotherapy (MBACP), which means she abides by the BACP ethical framework and principles for good practice. These can be viewed on their website, http://soniavohracounselling.co.uk/
If you have any questions or would like to arrange an initial meeting, please contact Sonia Vohra in confidence on 07507 163417 OR email her at This email address is being protected from spambots. You need JavaScript enabled to view it.
Sunita's Bio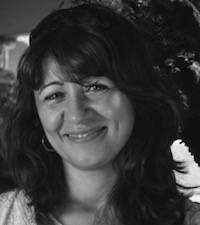 Sunita is an Executive Coach, Trainer and Consultant. She is of Indian origin and was born in London before moving to Geneva in 1992. She has a Psychology background (specialising in Occupational Psychology) and a Post Graduate in the Development and Training of Adults. She also completed a Masters in Ressources Humaines, Coaching et Gestion des Carrières at the University of Geneva.
During her 25 years experience Sunita's drive has always been to help people to do their best and hence led her to create Walk The Talk.
In her free time Sunita is a Mentor for the Branson Center of Entrepreneurship and a proud member of the School in The Cloud Team.