By Sunita Sehmi, Walk The Talk
The relationship between a mother and daughter remains constant, with their unconditional love for one another….But imagine taking this relationship into the business world? Gabrielle and her daughter, Valerie, have done just that! They have figured out how to complement each other's strengths and together they have created a contemporary bistro/boutique called L'Adresse.
The "disease to please" is prevailing in this warm, friendly welcoming restaurant. A red staircase leading you to L'Adresse has the atmosphere of a cabaret. When you reach the first floor you are far far away from the hustle and bustle of the city and you are met with chic décor, great food and a large terrace overflowing with greenery.
Tell us about yourself.
This is my first job that I ever had. Before this I was a housewife. So I had nothing to lose. I think it is so important to pass on this message to all stay-at-home mums, either because of choice, or because you were forced out by the labour market: yes, there are still ways for you to have your dream job! There are opportunities; granted, for me it was a slow transformation from housewife to restauranteur, but I had courage and conviction. Sometimes I feel all housewives have great talent but they remain hidden, as they get no exposure or recognition.
When did you open the restaurant?
We opened in February 2004. The atmosphere is happy and dynamic at lunchtime, softened in the evening. There is a relaxed and laid-back ambiance in the afternoon – you'll feel right at home. A 'must' in the summer is a rooftop terrace that takes you into another sphere.
L'Adresse is both a restaurant and a clothes store: who came up with the idea and why?
It was organic, it wasn't really our idea. I would say the space gave us the idea of combining the bistro and boutique. I wanted to have a bistro and after a year of researching we decided to do something together, in true artistic spirit, with creative cooking and tempting, fascinating fashion, which surrounds you with labels such as Isabel Marant Etoile, Diane Von Furstenberg, A.P.C., Acne etc. Season after season, a small selection of objects, unusual candles, organic cosmetics, accessories and jewellery always accompanies the renewed vision of the fashion world. For men, you will find the real A.P.C. basics, perfect cut Notify jeans, Italian mesh, quality beach wear, Swedish ambitions from Acne, ingenious luggage from Swiss designers ... so we can surprise and delight you with the latest trends.
Tell us a little bit about your staff, your menu and your clientèle.
Our clients are loyal people, who have been coming here for 11 years. We have all generations, young and old. Our clients often say the atmosphere at our restaurant is like being at home. Everyone is welcome because it's a warm and welcoming place. We have a vegetarian menu, not to be fashionable but because we meet our clients' needs. Our chef, Romauld Hauaoigne, gets his eggs from a farm, all our produce is fresh and local. He never uses cube stocks or ready-made mixes; he makes it all from scratch. Our staff, our menu, and our chef are all geared towards satisfying our clients' needs. Desserts are always homemade; by the way, the cheesecake is to die for!.
What have you learnt about yourself and about other people since being in this business?
I am a very loyal person, like my clients. It's a passion for me. I work 12 hours a day not because I have to, but because I want to!
In your opinion what is important when managing a restaurant?
Being flexible and not getting stuck on an idea. Plus speaking several languages like I do helps!
Could you share some of your strategies that keep you balanced?
Be adaptable and be accepting of others.
What is the best piece of advice you were ever given?
Be honest with yourself and others.
Reference:
L'Adresse
32 Rue du 31 Décembre
CH-1207 Genève
022 736 32 32
Table: Tuesday to Saturday, noon & dinner, tea time & lounging
Wear: Tuesday to Friday: 11h00 - 19h00, Saturday: 11h00 - 18h00
L' Adresse is also available for cocktails, private parties, dinners and other events on request
Bio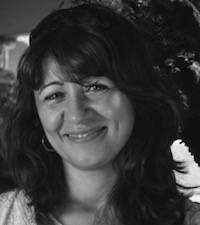 Sunita is an Executive Coach, Trainer and Consultant. She is of Indian origin and was born in London before moving to Geneva in 1992. She has a Psychology background (specialising in Occupational Psychology) and a Post Graduate in the Development and Training of Adults. She also completed a Masters in Ressources Humaines, Coaching et Gestion des Carrières at the University of Geneva.
During her 25 years experience Sunita's drive has always been to help people to do their best and hence led her to create Walk The Talk.
In her free time Sunita is a Mentor for the Branson Center of Entrepreneurship and a proud member of the School in The Cloud Team.