By Sarah Santacroce at Simplicity
If you're someone who really enjoys sharing information verbally then you may have just found your new favorite way to market your business.
You're probably feeling a bit nervous, but that's ok. It's totally normal but here's a secret – most people won't have a clue that you're nervous while you're speaking on the webinar. So just go with it, nervous or not and give it your best.
Three Key Questions Before You Plan Your Webinar
Of course, hosting a webinar takes planning and a greater effort than some other marketing initiatives. The first part of this effort is to figure out three key things:
why you are doing a webinar to start with: do you want to launch a product, educate your audience, or simply build a relationship with your audience?


what you expect to get out of hosting a webinar: are you hoping to build your e-mail list, sell your new course or product?


what action you intend for your attendees to take when the webinar is over: do you want them to attend your workshop, buy your course, buy someone else's course (affiliate commission)or just tell you: Hey Sarah, that was great, thanks! ?
When you can answer these questions, you'll be well on your way to a successful webinar.
Let's get in into some more detail on how to work these things out before you take any steps towards setting up your webinar:

Why Are You Hosting a Webinar?
If you are just hosting a webinar because someone told you that you must be hosting webinars, then it's time to take a step back. One thing you really should know is that there is no one method that you must do, it's all a choice. If you choose to host a webinar is should be because you think you'll enjoy it and you think it will benefit your business. Life is too short to do things you hate – especially because someone else told you to.
Enjoying the webinar is great, but you must have a main reason why for your business. Are you launching a new product and want to explain the benefits of buying it? That's a great reason to do a webinar. Do you need to offer training to your sales team or affiliates so they can go get more customers for you? Another great reason to host a webinar. Do you want to build an email list for your business so you have a constant source of potential customers? Yet another reason you could do a webinar.
The reasons you could host a webinar are nearly indefinite. Just get clear on your why so that it propels you through the process with decision and direction.

What Do You Expect Out of Your Webinar?
This ties into your reason for doing the webinar but let's take it a little deeper.
For example, if you are doing a webinar to promote a new product you are selling do you expect people to buy right from the webinar? If so, you need to know that as you create the webinar, get the software and write your presentation so that you can create a situation where what you want can actually happen. Don't put all the work into your webinar and just expect people will look you up and then buy your product. You need to make it clear, make it easy, give incentives and let them know what you want them to do. That's where the call to action comes in:

What Action Will Your Attendees Take?
Imagine you have a great turnout for your webinar, and the attendees are highly engaged during the entire event. You deliver real proof that you know what you're talking about, and give lots of great tips listeners can put into practice right away. Do you think if you ended the webinar with nothing but a thank you and a good night that they would be clamoring to find the link to your product and buy it right away? Without a strong call to action, people will simply thank you and move on with their life.
Your call to action doesn't need to be pushy or arrogant, annoying or brash, but it does need to exist. Simply decide what action you will ask your attendees to take, then at the end of your webinar, tell them what to do next. Of course, you will be hinting at this action throughout your presentation, so by the time you tell them what to do, your attendees will be ready to take action.
Planning your first webinar shouldn't be stressful or confusing. Simply focus on these three items, and the rest fill fall into place.


Are you looking for help to plan your 1st successful webinar without frustration? Get my 20-page e-guide 'Webinar Basics'. Click on the thumbnail to download it for only 7 USD !
Computer artwork credit: banj0e
Author's Bio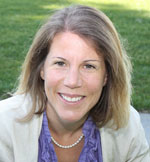 Sarah Santacroce is a certified social media, internet marketing, and virtual event specialist. She enjoys every aspect of small business marketing. It is her mission to help other small businesses and solopreneurs increase their visibility and use social media tools as part of their marketing strategy.
Sarah draws on 12 years of experience in Business Administration, in fields ranging from Employee Training to Public Relations at big and small companies. She became interested in Online Marketing and Social Media to promote her own business and after lots of research and numerous classes and webinars she is now offering that knowledge to other small- to mid-sized businesses who struggle to find their place on the web.
This article is the second in a series of regular contributions that Sarah will be making to her guest blog on knowitall.ch. You can see more articles from Sarah on her own website at: www.simplicityadmins.ch
To sign up to receive Sarah's newsletter, just fill in your details below: