by Carolina Rodriguez Barros, www.daretoglow.com
Think about how you walk to reach the next step. You have to pass your body weight from one leg to another and become unbalanced in order to lift your foot and make a step. You walk being unbalanced. You go from one place to the other in a state of unbalance. The secret you learn intuitively as a toddler, as I teach in my body awareness classes, is to find your centre — the place where your weight and body are stable so you can pass through every single step without falling down.
The same is true with life: To be balanced without falling down, you have to find your centre.
Most women I encounter feel that something is changing in their lives—or that something needs to change. The number one mistake we all make — I did it myself — is to try to change things outside ourselves in a quest to find happiness, passion and balance. In my own journey, I came to realise that all those things come from within us.
This is something I work with my clients about all the time. When they feel something is brewing inside them, or uncomfortable, it is a sign for change or transformation.
Are you asking yourself...
How do I move forward?
How do I step into a new stage in my life?
... then I would guide you through 3 steps for reflection and centring, so that, even though permanent balance is impossible, you learn to create balance in the moment, and allow yourself to grow.
Most of us used to dream as little girls about becoming something exceptional. What happened to our dreams and desires? Are they replaced by our growing expertise on the job, our technical knowledge about how to get our jobs done?
How can I act in my own enlightened self-interest?
Enlightened Self-interest means leading your life and life of others from an authentic grounded place. How much grounded are you? Do you find areas where you need to understand yourself better?
What does success look like to me?
Again and again, we are bombarded with products, books, and courses that promise to empower us to achieve a successful life. But wait a minute: What does SUCCESS mean exactly? Start to define your life in your terms and you will get there sooner than you notice, walking your own path, centred and balanced.
In my new workbook, How Centred Are You?, I explain in details a process of 5 steps for reflection and centring with practical exercises and questionnaires that will raise your awareness of who you really are. I guarantee you that this will allow you to see all the resources you already have and that you can use immediately to find your centre.
Stay fabulous and live with passion!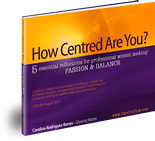 Click here to download this Free workbook right now!
---
Bio
Carolina Rodriguez Barros is the founder and director of Dare to Glow S.A. She thinks of herself as a Glowing Master because of her expertise in transforming women's lives, focusing on the development of an authentic, feminine body, identity, and style for sustained personal and professional growth.
Carolina began her career working in marketing and communications in South America and Southeast Asia. She began a long personal journey in 2007, ready to transform herself inside-out and turn her life upside-down. She searched for solutions everywhere: from Shinto Shamanism and Reiki with a Private Master, to Quantum Medicine, Body Awareness and Personal Image.
She founded Dare to Glow in 2009 and now devotes her time to guiding dynamic women from all walks of life, helping them tap into their inner source of power and express it in the world. To complement her clients needs, Carolina collaborates with a selected team of professionals in different fields. 'Transformation is a ripple effect, once you start, you want to keep going', she says.
Check out her new blog on knowitall.ch in our Careers section, under Women's Careers.