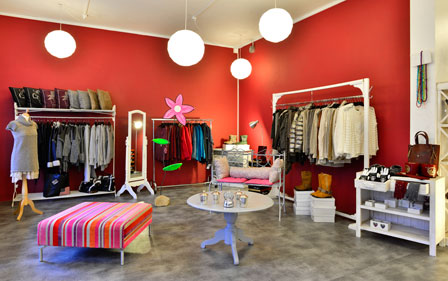 By Anouk Mathern, Prise en Flagrant Délire
The art of wardrobe management goes on. In my last post, I focused on selecting and getting rid on those "unwanted" items that blur your mind and your looks. But managing your wardrobe is also about updating it. New season collections are definitely an opportunity to do so but it also can be a rather scary one. In other words, do you really need to fall for the fluo trend of this summer ? The good news is it's up to you to decide ! Cleaning-out your wardrobe is not about overall change but picking out 1 or 2 trends each season that appeal to you and complete existing pieces. It's about selecting a few accessories or items that make a real difference without changing your style. Here is my selection of 8 spring 2013 trends to choose from. Ready, steady, shop !
Monochrome checks and stripes, especially black and white ones, are big in all major brands collections for a chic and bold graphic silhouette. A safe bet if you want to feel ahead of the curve in a few weeks time.
Floral prints, - the "on acid" ones-, are a sure way to celebrate this new season and turn your back to Geneva's enduring "bise noire" this Spring. To be enjoyed without moderation for entire outfits or used as appliques or embroidery depending on your mood and personal style.
Crisp white is this season's colour and runways were full of variations around the white shirt for a touch of elegance and light in your wardrobe.
Leather mini-skirts, sleeveless dresses and jackets in lighter hues will make a smooth transition to that warmer weather we are all waiting for.
Lace in any colour palette is back for a feminine and sophisticated fashion statement. All over accessories too !
Cut-outs, splits and crop tops: expose as much as you like or keep it subtly seductive – it's all about architecture. This is no new trend but the visual impact of cut-outs is such that we are bound to see more of them in the (near) future. May even become workplace material if you go for the coat or jacket version.
Metallics, the shinier the better…Forget nightlife rules, sequins, studs and iridescent fabrics are meant for daytime now.
Pointy shoes are back ! And low heels are in, that's good news for our running around.
Picking your choice of trends is one thing, financing it is another. Lace, floral and monochrome stripes are all over the new collections available at Prise en Flagrant Délire so feel free to celebrate this new season at (very) reduced prices.
Author's bio
Anouk Mathern worked 10 years marketing luxury department stores and outlet centres in Paris before moving to Geneva 5 years ago. The second hand and fashion shop she co-founded in les Eaux-Vives offers both second hand and new collections at reduced prices to browse through. Find out more on www.priseenflagrantdelire.ch