People often joke about Swiss punctuality and visitors may be somewhat surprised when apologies for a 2-minute delay are voiced over a train's PA system. However, for me, this should be the norm, whatever the mode of transport.
Our leisure time is precious. In Switzerland, the minimum annual leave entitlement for a full-time employment position is 4 weeks (or 20 days). In addition, there are between 7 and 15 paid public holidays which vary from canton to canton. Under EU legislation, all member states must grant all employees a minimum of 4 weeks paid vacation. The UK has a statutory minimum of 5.6 weeks (or 28 days), which may include the 8 public holiday days. The US has no statutory minimum paid vacation, although according to the US Bureau of Labour Statistics, full-time employees become entitled to, on average, 10 days holiday after 1 year of service.
Using part of your annual leave in order to travel to another country takes some planning. Flights are often booked months in advance and timings selected to maximise use of your time and minimise cost. So when your flight is delayed by a few hours or, worse still, cancelled, inconvenience is the politest way to describe the impact felt.
Holiday insurance can often help to compensate, but there is another route for compensation which shouldn't be overlooked. All airline passengers, irrespective of nationality or residence, may be entitled to compensation in the event of a flight cancellation or delay of more the 3 hours, when flying within the EU or departing from the EU on an EU or non-EU airline, or arriving in the EU on an EU airline.
Under EU Regulation 261/2004, passengers who experience a delay of at least 3 hours can claim compensation of between 250 – 600 Euros, depending on the flight distance. There is no specific time limit on claims referred to in the regulation; rather this is based on the laws in the respective EU countries. In the UK, for example, the time limit is 6 years. Airlines will not be required to pay compensation if the delay was caused as a result of 'extraordinary circumstances'. However, recent court cases have clarified that technical faults, often cited as a reason, very rarely fall into this category.
Last year, my flight from London City Airport to Geneva was cancelled. I received a text message a few hours before the flight departure to inform me. The airline provided hotel accommodation close to the airport, transport to and from the hotel, along with meal vouchers. I was allocated a seat on a flight the following morning. At the time, I hadn't realised that I could make use of the EU Regulation 261/2004 and claim for compensation.
However, one year later, I happened to stumble across a website called Resolver (https://www.resolver.co.uk ). This is a free and extremely user-friendly application for consumers to help with complaints and claims for compensation. With a few clicks I was able to lodge my claim against the airline for compensation. After a short delay, I received a message from the airline refusing my claim, stating that the cancellation was due to a technical problem. I responded with reference to the legal decisions made in Wallentin-Hermann vs Alitalia case 2009, Jet2 vs Huzar case 2014, and the more recent ruling in Corina van de Lans vs Koninklijke Luchjtvaat Maatschappil NV by the Court of Justice of the European Union in September 2015. This latter judgement stated clearly that 'a technical problem cannot fall within the definition of extraordinary circumstances'.
Unfortunately, the airline still refused the claim. Therefore, I took the next step, also free of charge, and contacted the Ombudsman, referred to by the Civil Aviation Authority (CAA) as the Alternative Dispute Resolution (ADR) body. This information can be found on the CAA website (https://www.caa.co.uk ). The ADR for my particular case was söp (https://soep-online.de ). It took me no longer than 10 minutes to complete the online form. I received an acknowledgement within 24 hours and two weeks later, on 13 April 2017, I received a confirmation email from söp informing me that the airline had agreed to settle my claim and payment would be made directly to my bank account within a few weeks.
Making this claim online was very straightforward. It cost nothing other than a few minutes of my time. EU legislation is in place to protect all of us, but in order for that protection to be effective, we need to be aware of its existence and make use of it. If you have been the victim of a flight delay or cancellation, what have you got to lose by making a claim? After all, leisure time is valuable, so why shouldn't you be compensated when others cause you to waste it?
Author's bio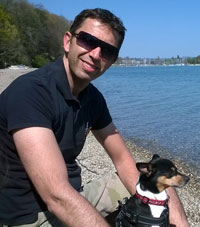 Dean Marriott was born in London and educated in the UK and Germany. He retired from a career in finance, aged 33, and subsequently retrained as an actor and teacher. From an early age, his passion for languages and the arts has underpinned both his professional and social lives. In his quest for leisure activities, Dean keeps one key thought in mind: if Shakespeare's words are true and 'All the world's a stage', we shouldn't have to look far in order to be entertained. We just have to make the time to appreciate it.
If you are searching for an element of entertainment in your leisure pursuits and have a desire to look beyond the obvious, then Dean will use his artistic eye to point you in the right direction.
Dean works in Switzerland as an actor, voice-over artist, and onscreen presenter. He also teaches theatre, improvisation and film-making at La Chataigneraie, Ecolint, as part of their ECA programme.
Save
Save
Save