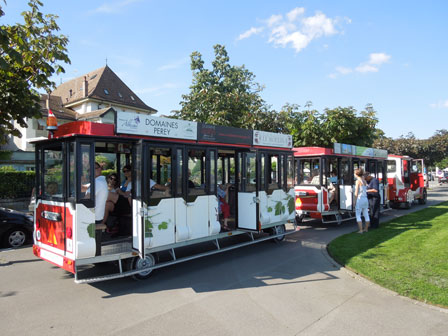 Finding leisure activities that appeal to both adults and children can often be a challenge. However, one solution may be closer than you think. I've been living in Morges for 11 months and have often seen the little tourist train passing in front of my apartment block. However, what I didn't realise was that there was more to this train than initially meets the eye.
From July to mid-September, the tourist train transforms into the Vineyard train, which runs twice weekly, on Tuesday from 10:30 am to 12:30 pm and Thursday from 5:30 pm to 7:30 pm. We chose the Thursday option – perfect timing for aperitif!
The train departs and returns to the CGN jetty in Morges, in front of the Casino. Our tour was to take us through the vineyards around Vufflens-le-Château before making its way up to Cave du Signal, Echichens. We were very fortunate with the weather and benefited from a beautiful summer evening. The journey alone was worth the CHF 15 fee (CHF 7 for children/free if under 6 years old), with a commentary in English and French as the train twisted and turned along the narrow country roads. The children loved this.
When we arrived at the Cave du Signal, Echichens we were greeted warmly and enthusiastically by one of the owners, who I later discovered was a bit of a thespian, and led to tables decorated with various nibbles to accompany our wine-tasting experience. The view down over the lake from here was stunning. The sun shone, wine flowed freely and conversations in multiple languages provided the entertainment. At least 8 wines were offered in generous quantities; white, red and rosé, including a delicious Oeil-de-Perdrix, Rosé de Pinot-Noir. Soft drinks were also available for the children and drivers. A visit to the wine cellars was also proposed, with a few enthusiasts taking advantage of this.
The evening passed rapidly and, in fact, 7.30pm came and went before the train driver started to round-up the visitors, who were evidently thoroughly engaged in their various discussions and wine appreciation.
When the train arrived back in Morges, the sun was lower in the sky but the spirits of the passengers were high. Smiles were in abundance and faces glowed healthily. There is still time to take advantage of the Vineyard train this summer. Whether with colleagues, friends or family, it's an enjoyable way to start the evening.
Further details can be found on the Morges tourism website: http://www.morges-tourisme.ch/en/gastronomy-wines
Author's bio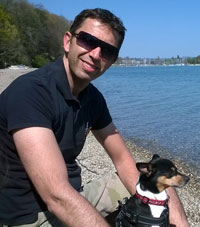 Dean Marriott was born in London and educated in the UK and Germany. He retired from a career in finance, aged 33, and subsequently retrained as an actor and teacher. From an early age, his passion for languages has underpinned both his professional and social lives. In his quest for leisure activities, Dean keeps one key thought in mind: if Shakespeare's words are true and 'All the world's a stage', we shouldn't have to look far in order to be entertained. We just have to make the time to appreciate it.
If you are searching for an element of entertainment in your leisure pursuits and have a desire to look beyond the obvious, then Dean will use his artistic eye to point you in the right direction.
Dean is currently the Director of the World Language Learning Centre at GEMS World Academy-Etoy, where he promotes the idea that language learning is about embodying a new language, not simply studying it.