Read the full blog entry from Rosa's Yummy Yums
The day I entered the blogging world and launched Rosa's Yummy Yums, I made a promise to myself that under no circumstances would I ever transform my site into an advertizing platform or sell my soul to the god of freebies. My aim has never been to metamorphose into a food bloggers who reviews any samples just because they are gratis, promotes more giveaways than articles and turns his/her site into a hideous podiums for big brands as well as multinational companies in order to boost his/her traffic and gain a few bucks.
So, if I choose to present Marinos Kallaras' gourmet extra virgin olive oil here today, it is because I am genuinely impressed by the quality of it and want to show my support for a Greek family of artisan producers from Corinth (in the Peloponnese) who are dedicated to creating a natural - zero chemicals, additives and preservatives - and authentic produce which carries the experience and tradition of generations (centuries).
Kallaras olive oil is extracted from freshly picked Manaki olives, a regional variety of slow-repening olives which are renowned for their distinctive soft sapidity, low acidity and high phenolic content. As a result, the oil obtained by cold-pressing the fruits is wholesome, pleasantly smooth in flavor (mildly fruity), has a wonderfully rich fragrance and a slightly tangy edge as well as pungent attributes of medium intensity.
This harmonious and delicate tasting golden-green elixir of health is perfect for seasoning, enhancing and preparing cold dishes such as salads, carpaccios and uncooked specialities like sauces, dips and spreads (mayonnaise, dressings, relishes, salsas, pestos, etc...) or drizzling over rice, pasta, vegetables, beans, meat, fish and seafood.
When one is lucky enough to be in possession of such an awesome olive oil, one has the obligation to use it to its fullest potential and to pair it intelligently with ingredients that will not spoil its subtle aromas. That's why I've decided to incorporate it to my latest vegetarian creation to date: a hearty and seasonal "Beetroot Pesto" packed with antioxidants, vitamins and minerals.
Beetroot Pesto
Recipe by Rosa Mayland, January 2013.
Makes about 1 1/2 cups pesto - serves 4-6 people.
Ingredients:
1/4 Cup Almonds, toasted
1/8 Cup Sesame seeds, toasted
1/4 Cup Virgin olive oil
1 Clove garlic
1 Tsp Ground cumin
1 Tsp Dried oregano
A pinch Ground coriander
360g Cooked beetroot, cut in pieces
2 Tbs Lemon juice
1 Tbs Pomegranate molasses
1 Tsp Nutritional yeast
Fine sea salt, to taste
Freshly ground black pepper, to taste
Method:
1. In a food processor, mix together the almonds, sesame seeds, olive oil, garlic, cumin, oregano and coriander until you obtain a smooth paste.
2. Add the beetroot, lemon juice, pomegranate molasses, nutritional yeast, salt and pepper. Mix until the mixture is pastelike and homogenous (use a rubber spatula to scrape down the sides of the food processor as necessary to make sure that the ingredients get blended well).
3. Serve.
Remarks:
Store in a jar or airtight container in the refrigerator for up to a week.
This pesto freezes well, so why not double the recipe and keep half of it in the freezer in a plastic container or frozen first in an ice tray for mini-portions and then kept in a sealed freezer bag?
Serving suggestions:
Serve this pesto with pasta, spread it on bread/crackers or use it as dip.
Author's Bio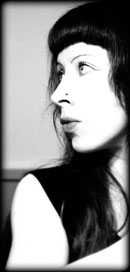 Rosa Mayland, the creator of Rosa's Yummy Yums, lives in a small Geneva countryside village situated in the French speaking part of Switzerland - a few meters away from the French border. She's an Anglo-Swiss food enthusiast who loves photography, loud rock or electronic music, walks in the countryside, meeting interesting people, cats, books and independent films. When she's not writing for her blog, you'll also find her over at The Rambling Epicure, a daily international food chronicle and online newspaper to which she contributes as a freelance writer.

As you can imagine, she is very passionate about cooking/baking and can spend hours surfing the net for inspiration, reading blogs, creating dishes, testing new recipes or going through cookbooks and magazines. She is crazy about flavorful and soul-uplifting grubs, spices and yummy textures, therefore she's particularly fond of Asian, Caribbean, Mediterranean, South American, Middle Eastern delights as well as regional and traditional specialities!
Rosa has kindly agreed to let us post some of the recipes from her blog on knowitall.ch. Each month we will feature a new dish from her site, but due to space limitations we will only publish the recipes listed in each blog entry. However, you MUST click on the link provided with each recipe to read for yourself the inspiration behind each of the dishes prepared by Rosa and to see the wonderful collection of photos accompanying each dish. Many of these photos have been taken at locations in and around Geneva - see if you can work out where they have been taken!