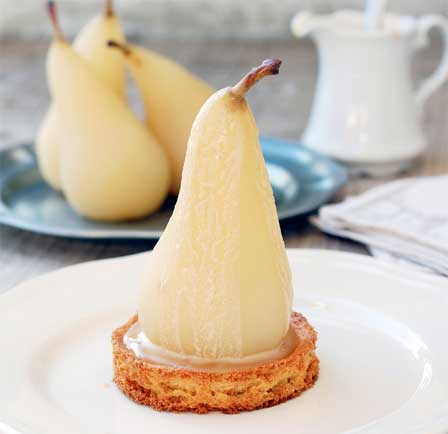 Read the full blog entry from Rosa's Yummy Yums
Being a person who enjoys simplicity and doesn't need luxury or pompousness to feel fulfilled and overjoyed, the holiday dessert I am presenting here today is in my image too; a graceful combination of sophistication and sobriety. This refined and ambrosial, yet modest as well as fuss-free sweet treat is just perfect for ending a feast on a fresh, light, fruity, gleeful and magical note.
White Wine & Tonka Poached Pears With Sablés Bretons And Butterscotch Sauce
Recipe for the "White Wine Poached Pears" as well as the "Butterscotch Sauce" by Rosa Mayland, November/December 2012 and recipe for the "Sablés Bretons" adapted from "La Cuisine De Mercotte".
Serves 6.
Ingredients For The "Poached Pears":
6 Pears, peeled & cored (from the base)
1200ml Water
250ml White wine (sweet or dry)
1 3/4 Cups Castor sugar
1/3 Tsp Ground tonka
2 Tsp Pure vanilla extract (or 1 vanilla bean, splitted)
Ingredients For The "Sablés Bretons":
75g Powder sugar
2 Egg yolks
75g Unsalted butter, at room temperature and softened
100g Flour, sieved
5g Baking powder
A pinch of fine sea salt
Ingredients For The "Butterscotch Sauce":
1 Quantity Butterscotch sauce (recipe here)
Method For The "Poached Pears":
1. In a big pan, combine the water, wine, sugar, tonka and vanilla.
2. Bring to a gentle simmer while stirring.
3. Place the pears in the poaching liquid and cover with a circle of baking paper (with a hole in the center - to let the steam escape) that fits snugly over the fruits.
4. Reduce the heat to a low simmer and cook for 20 minutes or until the pears are tender.
5. Remove the pan from the heat and let the pears cool in their liquid.
Method For The "Sablés Bretons":
6. Using a hand whisk, beat the sugar together with the yolks, until the mixture is foamy, pale yellow and falls from the beater in a ribbon.
7. Add the softened butter and whisk in order to obtain a smooth mixture.
8. With the help of a spatula, incorporate the flour and baking powder and salt (the mixture should be homogenous and ressemble a paste).
9. In plastic wrap, roughly flatten the dough to a thickness of 1/2 cm (0.2 inches) and refrigerate for several hours (at least 2 hours).
10. Cut out 8 rounds of pastry using 7cm (2.8 inches) non-buttered/greased stainless steel rings.
11. Place each pastry round on a baking tray covered with baking paper or a silpat and bake with the rings (!!!) at 170° C (338° F) for about 20 minutes.
12. Cool on a rack and then carefully unmold.
Method For "Assembling The Dessert":
13. Put one shortbread on each plate, then place a drained pear on top of it and drizzle with lukewarm butterscotch sauce.
14. Serve.
Remarks:
I used "Belle Hélène" pears, but you can also use "Bosc" or "Anjou" pears.
White wines such as "Gewurzraminer", "Riesling", "Sauvignon Blanc", "Champagne", "Clairette De Die" or "Sauterne" are perfect for poaching the pears.
The "Sablés Bretons" MUST be made by hand - no electric mixer should be employed.
The characteristic look of "Sablés Bretons" is obtained by not buttering/greasing the molds.
There is an excess of two "Sablés Bretons". Those might come in handy if one shortbread happens to get broken or looks not very presentable.
Serve the finished dessert immediately, otherwise the "Sablés Bretons" will get soggy.
Serving suggestions:
Serve at the end of your meal with dessert wine (Sauternes, Muscat, Tokaji, etc...) or spakling wine (Champagne, Clairette de Die, Moscato d'Asti, etc...).
Author's Bio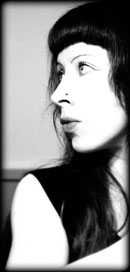 Rosa Mayland, the creator of Rosa's Yummy Yums, lives in a small Geneva countryside village situated in the French speaking part of Switzerland - a few meters away from the French border. She's an Anglo-Swiss food enthusiast who loves photography, loud rock or electronic music, walks in the countryside, meeting interesting people, cats, books and independent films. When she's not writing for her blog, you'll also find her over at The Rambling Epicure, a daily international food chronicle and online newspaper to which she contributes as a freelance writer.

As you can imagine, she is very passionate about cooking/baking and can spend hours surfing the net for inspiration, reading blogs, creating dishes, testing new recipes or going through cookbooks and magazines. She is crazy about flavorful and soul-uplifting grubs, spices and yummy textures, therefore she's particularly fond of Asian, Caribbean, Mediterranean, South American, Middle Eastern delights as well as regional and traditional specialities!
Rosa has kindly agreed to let us post some of the recipes from her blog on knowitall.ch. Each month we will feature a new dish from her site, but due to space limitations we will only publish the recipes listed in each blog entry. However, you MUST click on the link provided with each recipe to read for yourself the inspiration behind each of the dishes prepared by Rosa and to see the wonderful collection of photos accompanying each dish. Many of these photos have been taken at locations in and around Geneva - see if you can work out where they have been taken!