Read the full blog entry from Rosa's Yummy Yums
I'm not going to lie to you and say that I hate all produces which are labelled as "deluxe", but generally, I'd rather settle for those that are less posh and sometimes dispised or neglected because they are supposedly boring, crude and too ordinary. You see, one of my passions is to transform frugal eats into dazzling and surprising specialities and use my creativity to sublimate them. I have a lot of fun playing around in the kitchen and revamping those "ugly duckling" of gastronomy. Through, Rosa's Yummy Yums, my aim is to show others that even the most unpromising root veggie, innard or cereal can be worked into something appetizing, refined and extremely savory.
It is exactly what I did with the pasta salad I am presenting today. All components I employed are commonly found in a majority of pantries and fridges. There's nothing special about them, but the recipe I have put together is far from being average.
My "Creamy Fusili Salad with Sun Dried Tomatoes, Peas & Arugula" is an ode to spring and to the warmer days. It is fresh like the young leaves that are budding, buoyant like the birds that are singing on the top of their lungs, zesty like the cool April breeze and lusciously creamy like the first ice cream of the sunny season... Bliss in a plate!


Creamy Fusili Salad with Sun Dried Tomatoes, Peas & Arugula
Recipe by Rosa Mayland, April 2012

Serves 2 (2 medium servings each).

Ingredients For The "Lemony Cream Dressing":
The juice of 1/2 an organic lemon
5 Tbs Sour cream
3 Tbs Milk
The zest of 1 organic lemon
1/2 Tsp Onion powder
Red Tabasco, to taste
Sea salt, to taste
Freshly ground black pepper, to taste
Ingredients For The "Pasta Salad":
240g Raw fusili
100g Arugula
80g Preserved dried tomatoes (weigh drained), thinly sliced
60g Raw peas
Shaved parmesan, to taste

Method For The "Lemony Cream Dressing":
1. In a big salad bowl, mix all the ingredients for the dressing together.
Method For The "Pasta Salad":
2. Cook the pasta according to the packet instructions. Strain and let cool until lukewarm.
3. Toss the pasta, 1/4 of the arugula and the peas with the dressing.
4. Dress the plates with 1/4 of the remaining arugula and 1/4 of the pasta salad, then sprinkle with 1/4 of the tomatoes and top with the shaved parmesan.
5. Serve.

Remarks:
The fusili can be replaced by penne rigate, farfalle, gnocchetti sardi or conchigliette.
If you are calorie conscious, use light cream instead of sour cream.

Serving suggestions:
Serve for lunch or supper.
This salad can be accompanied by a Chardonnay, Chasselas, Riesling or Sauvignon Blanc.
Photo courtesy of Rosa Mayland Photography.
Author's Bio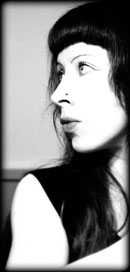 Rosa Mayland, the creator of
Rosa's Yummy Yums
, lives in a small Geneva countryside village situated in the French speaking part of Switzerland - a few meters away from the French border. She's an Anglo-Swiss food enthusiast who loves photography, loud rock or electronic music, walks in the countryside, meeting interesting people, cats, books and independent films. When she's not writing for her blog, you'll also find her over at The Rambling Epicure, a daily international food chronicle and online newspaper to which she contributes as a freelance writer.
As you can imagine, she is very passionate about cooking/baking and can spend hours surfing the net for inspiration, reading blogs, creating dishes, testing new recipes or going through cookbooks and magazines. She is crazy about flavorful and soul-uplifting grubs, spices and yummy textures, therefore she's particularly fond of Asian, Caribbean, Mediterranean, South American, Middle Eastern delights as well as regional and traditional specialities!
Rosa has kindly agreed to let us post some of the recipes from her blog on knowitall.ch. Each month we will feature a new dish from her site, but due to space limitations we will only publish the recipes listed in each blog entry. However, you MUST click on the link provided with each recipe to read for yourself the inspiration behind each of the dishes prepared by Rosa and to see the wonderful collection of photos accompanying each dish. Many of these photos have been taken at locations in and around Geneva - see if you can work out where they have been taken!