Read the full blog entry from Rosa's Yummy Yums
Lately, I have been blessed to win a few giveaways and to be offered a bunch of wonderful cookbooks. Speaking of which, a few months ago Isabelle Lambert of the popular "Les gourmandises d'Isa" sent me an exemplary of her first publication. How nice and thoughtful of her. I was extremely thrilled that she had thought of me...
Isabelle was born in France and has been living in Québec (Canada) for about a decade. She hails from a family of professional bakers/pâtissiers, butchers/pork butchers and caterers, and grew up being surrounded by cuisine enthusiasts who produced their own fare, hence it is no wonder that she cultivates a strong interest for the arts of the table.
In her book, Isabelle shares 150 of her favorite recipes inspired by her love for Québecois and North American chefs. It is chock-a-block full a ideas for delectable savory dishes such as quiches, Flemish beef stew, caramel pork, rillettes de Mans, monkfish blanquette, chicken tajine with dried apricots, lobster rolls as well as abunding with marvelous sweet treats (2/3 of the book is dedicated to desserts) such as piña colada muffins, maple syrup bars, creamy orange tart, bacon toffee, coffe éclairs, churros, salty caramel spread and many more.
After a lot of hard-thinking and endless flipping through the pages of this softcover (taking decisions isn't my strong point), I finally decided that I was going to share with you Isabelle's own version of the famous Oreos.

Homemade Oreos are by far my drug of choice. Not only are they made with 100% natural ingredients, but they have a finer taste too. It is impossible to compare them with those produced by Nabisco, a division of Kraft Foods and another big corporation whose interest is not your health, but rather to create monopoly control over the food system.

Unlike the palm oil-loaded, additive-ladden, nutrient-poor and fashionable wafers, Isabelle's Oreos (which I have slighty altered - salt added to the filling and I substituted the margarine with butter) don't have a cardboardy/dusty flavor or fail to deliver oomph. Those "Artisanal Oreos" are not overly sweet and offer an intense aroma of cocoa, vanilla and butter. Once you've bitten into one, you'll get hooked and will forget your addiction for the manufactured stuff. It is definitely worthwhile investing efforts into the baking of those babies as store-bought biscuits cannot compare to these!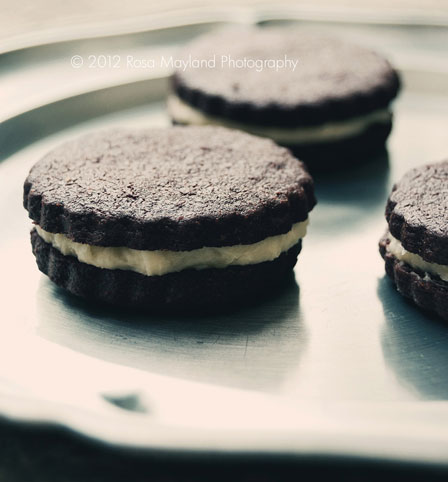 ~ Artisanal Oreos ~
Recipe adapted from Isabelle's book, "Les Gourmandises d'Isa".

Makes about 20 Oreos.

Ingredients for "Cookies":
80g (5 Tbs + 1 Tsp) Unsweetened cocoa
113g (7/8 Cup) All-purpose flour
1 Pinch Fine sea salt
125g (1/2 Cup + 1 Tsp) Unsalted butter
200g (5/8 Cup - 1 Tsp) Castor sugar
1 Big Egg (~ 63g)
1/2 Tsp Pure vanilla extract
Ingredients For The "Filling":
125g (1/2 Cup + 1 Tsp) Unsalted butter
125g (1 Cup + 1 Tsp) Icing sugar
1 Tsp Pure vanilla extract
1/2 Tsp Fine sea salt

Method For The "Cookies":
1. Sift the flour, cocoa and salt together. Set aside.
2. Cream the butter and sugar together in order to obtain a pale, fluffy and creamy mixture.
3. Add the egg and vanilla. Mix well until fully incorporated.
4. Add the dry ingredients and using a spatula, mix well until just blended (don't knead).
5. Wrap the dough in clear plastic wrap and store in the fridge for 15 minutes.
6. Preheat the oven to 160° C (325° F).
7. Sprinkle your work surface with cocoa, then roll out the dough to a thickness of 5 mm.
8. Using a fluted round cookie cutter (4 cm/1.6 inch in diameter), cut the dough into about 40 rounds (you can re-roll the scraps).

Oreo Snow Village 1 1 bis

9. Place cookies on prepared baking sheets 2.5 cm apart.
10. Place the cookie sheets in the freezer for 15 minutes.
11. Bake the cookies in the middle of the oven for 15 minutes.
12. Remove them from the oven and let them cool on a wire rack.
Method For The "Filling":
13. Beat the butter, until light and creamy.
14. Add the powdered sugar, vanilla and salt, then beat well until smooth.
Method For "Assembling The Oreos"
15. After cookies have cooled, put 1 1/2 Tsp of the filling between two cookies, putting bottom sides together.

Comments:
It is very important to freeze the pastry rounds if you do not want the cookies to spread out while baking.

Serving suggestion:
Eat your Oreos with a glass of ice cold milk.
Photo courtesy of Rosa Mayland Photography.
Author's Bio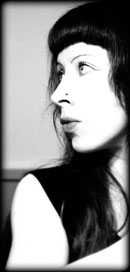 Rosa Mayland, the creator of
Rosa's Yummy Yums
, lives in a small Geneva countryside village situated in the French speaking part of Switzerland - a few meters away from the French border. She's an Anglo-Swiss food enthusiast who loves photography, loud rock or electronic music, walks in the countryside, meeting interesting people, cats, books and independent films. When she's not writing for her blog, you'll also find her over at The Rambling Epicure, a daily international food chronicle and online newspaper to which she contributes as a freelance writer.
As you can imagine, she is very passionate about cooking/baking and can spend hours surfing the net for inspiration, reading blogs, creating dishes, testing new recipes or going through cookbooks and magazines. She is crazy about flavorful and soul-uplifting grubs, spices and yummy textures, therefore she's particularly fond of Asian, Caribbean, Mediterranean, South American, Middle Eastern delights as well as regional and traditional specialities!
Rosa has kindly agreed to let us post some of the recipes from her blog on knowitall.ch. Each month we will feature a new dish from her site, but due to space limitations we will only publish the recipes listed in each blog entry. However, you MUST click on the link provided with each recipe to read for yourself the inspiration behind each of the dishes prepared by Rosa and to see the wonderful collection of photos accompanying each dish. Many of these photos have been taken at locations in and around Geneva - see if you can work out where they have been taken!