Read the full blog entry from Rosa's Yummy Yums
Being adventuous in the kitchen and having an inclination for novelty, I decided to prepare a new speciality in order to vary things a little: "Basler Läckerli (Leckerli)". This world famous pastry composed of many ingredients such as honey, almonds, candied orange or lemon peel, kirschwasser as well as a variety of spices. It is a traditional Swiss cookie bar we enjoy all year long and which is very similar to gingerbread. This biscuit's name means "small goody" ("lecker" = yummy and the Swiss German suffix "li" indicates smallness) and it originates from Basel in Switzerland where it was created by local spice merchants around 1431, at the time of the Council of Basel.
At the origin, "Lackerli" were only fabricated on the occasion of the New Year, to sustain the assembled church dignitaries and were accompanied by mulled wine, but it became so popular that people started producing it whenever they fancied it. Before the commercialisation of professional mixers, train station porters were employed to knead the stiff dough as big muscles were needed to successfully carry out the harsh task of mixing.

The recipe I am presenting today was adapted from a "Cuisine De Saison" magazine I possess. As usual, I had to make a few changes (ingredients- and method-wise) as I found that it could be slightly improved. So, I added more honey to the mass because I found it far too dry, for more flavor I incorporated a pinch of salt and some ground nutmeg to the mix, and confectioned my icing with cherry booze in order to give it oomph. The result was just mindblowing. My no-brainer "Basler Läckerli" turned out really great as they were marvelously chewy, exhaliratingly spicy, so pretty and above all they were mindboglingly comparable to the ones that are made by the renown Läckerli Huus (no need to buy this expensive confection anymore).
~ Basler Läckerli ~
Recipe adapted from "Cuisine De Saison".

Makes about 20 cookies.

Ingredients For The "Bars":
240-250g Runny honey
80g Castor sugar
100g Matchstick almonds, chopped coarsely
240g All-purpose flour (+ extra flour for rolling)
1 Tsp Baking soda
1 Tsp Ground cloves
1Tsp Ground cinnamon
1/3 Tsp Ground nutmeg
A pinch of fine sea salt
100g Candied orange peel
Ingredients For The "Icing":
1 1/2 Tbs Kirsch, lemon/orange juice or water
3 Tbs Icing sugar

Method For The "Bars":
1. In a medium bowl, mix together the flour, soda, spices and salt. Set aside.
2. In big bowl (or in that of your KA), mix the honey together with the sugar until it looks pale, then add the almonds, the flour mixture and the candied peel.
3. Knead lightly in order to obtain a stiff dough.
4. Cover with clingfilm and let rest for 30 minutes.
5. Preheat the oven to 350° F (180° C).
6. On a floured work surface, roll out the dough to a 0.4 inches (1cm) thick rectangle.
7. Transfer the sheet of dough to a baking pan covered with baking paper.
8. Bake for 13-16 minutes in the centre of the oven (I baked mine 16 minutes).

Method For The "Icing":
9. Let cool for about 10 minutes. Meanwhile, mix the kirschwasser together with the icing sugar.
10. Brush the top of the dough with the icing and cut it into about 20 equally-sized rectangles.

Comments:
When mixing, if your dough is a little dry add a bit more honey so that it comes together in ball.
As the dough is very stiff, I recommend you to knead it in a stand mixer.
When coming out of the oven, the baked läckerli must be pale in color and soft to the touch (they will harden while cooling).
The läckerli can be kept for up to a month in an airtight container.

Serving suggestion:
Eat those cookies at any time of the day and serve with a good cup of tea or an eggnog.
Photo courtesy of Rosa Mayland Photography.
Author's Bio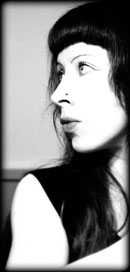 Rosa Mayland, the creator of
Rosa's Yummy Yums
, lives in a small Geneva countryside village situated in the French speaking part of Switzerland - a few meters away from the French border. She's an Anglo-Swiss food enthusiast who loves photography, loud rock or electronic music, walks in the countryside, meeting interesting people, cats, books and independent films. When she's not writing for her blog, you'll also find her over at The Rambling Epicure, a daily international food chronicle and online newspaper to which she contributes as a freelance writer.
As you can imagine, she is very passionate about cooking/baking and can spend hours surfing the net for inspiration, reading blogs, creating dishes, testing new recipes or going through cookbooks and magazines. She is crazy about flavorful and soul-uplifting grubs, spices and yummy textures, therefore she's particularly fond of Asian, Caribbean, Mediterranean, South American, Middle Eastern delights as well as regional and traditional specialities!
Rosa has kindly agreed to let us post some of the recipes from her blog on knowitall.ch. Each month we will feature a new dish from her site, but due to space limitations we will only publish the recipes listed in each blog entry. However, you MUST click on the link provided with each recipe to read for yourself the inspiration behind each of the dishes prepared by Rosa and to see the wonderful collection of photos accompanying each dish. Many of these photos have been taken at locations in and around Geneva - see if you can work out where they have been taken!