Read the full blog entry from Rosa's Yummy Yums
I have decided to present one of those sweet confections instead of blogging about the usual Yuletide cookies or candy. Don't get me wrong, I am the biggest sucker for those goodies, but in December, magazines and blogs already offer enough recipes for biscuits, bonbons and bars. It is the reason why I thought that it would be great to share something a bit different than what you usually see everywhere when Noël is around the corner.

I wanted to create a special dessert with the Matcha Pâtissier that the Palais Des Thés graciously offered me back in September and sublimate it, so after a certain amount of brainstorming I came up with a wonderful idea: I'd bake "Mont Blancs" (also known as "Monte Bianco in Italy) or rather a modernized version of a that luxurious and festive classic worthy of gracing the Italian table of Cesare and Lucrezia Borgia during the 15th and 16th century, and that of France's noblest families during Louis XIV's reign.
In order to update the original recipe and spike it up a little, I added cardamom to the meringue batter, gave the vermicelli additional oomph by incorporating Kirschwasser to the chestnut puree and upgraded the Chantilly by blending some matcha to the cream. Now, that sounds a lot more exciting, don't you think?!
As you can imagine, my luscious holiday "Chestnut, Cardamom & Matcha Mont Blancs" didn't last long and were gobbled at the speed of light. The pavlovas were light, crispy and their centre was delightfully soft and chewy, the chestnut puree was silky and the whipped cream divinely fluffy. Taste-wise, the aromas are not overwhelming, instead they are complementary, refined and work well together, each being distinguishable. A fantastic blend of dissimilar textures and of matching savors.To-die-for!!!
Chestnut, Cardamom & Matcha Mont Blancs
Recipe for the "Meringues" adapted from "Bon Appétit" magazine. Conception of this dessert as well as the "Chestnut Puree" and "Matcha Cream" recipes by Rosa Mayland, December 2011.
Makes 6 big "Mont Blancs":
Ingredients for the "Meringues":
4 Large egg whites
1/4 Tsp Cream of tartar
1 Cup (210g) Castor sugar
2 Tsps Cornstarch
1/2 Tsp Apple vinegar
1/2 Tsp Pure vanilla extract
1/4 Tsp Ground cardamom
Ingredients For The "Chestnut Puree"
:
400g Sweetened chestnut puree (no jam/spread)
3-4 Tbs Kirschwasser
Ingredients for the "Matcha Whipped Cream":
1 Cup (250ml) Double/heavy cream (35%)
2 Tbs Icing/conditioner's sugar
1 Tsp Palais Des Thés "Matcha Pâtissier" (powdered green tea)
Method For The "Meringues":
1. Preheat the oven to 350° F (180° C).
2. Line a large baking tray with baking paper.
3. Using your stand mixer (or electric mixer + a big bowl), whisk the egg whites for 1 minute. 4. Add the cream of tartar and continue beating until soft peaks appear.
5. Then, gradually incorporate the sugar, while continuously whisking until the whites are thick, really firm and resemble marshmallow creme, about 5 minutes.
6. Beat in the cornstarch, vinegar, vanilla, and cardamom.
7. Drop the heaps of meringue batter onto the prepared sheet (create 6 mounds, spaced 3 inches/8cm apart).
8. Using the back of a tablespoon, make a depression in the center of each meringue.
9. Transfer to the oven and immediately reduce temperature to 250° F (120° C).
10. Bake until the meringues are dry outside (but centers remain soft), have a pale straw color and lift easily from the parchment, about 80 - 110 minutes.
11. Cool completely on a rack.
Method For The "Chestnut Puree":
1. Mix the puree together with the kirsch. Set aside.

Method For The "Matcha Whipped Cream":
1. Make sure your stand mixer bowl, beaters and cream are very cold.
2. Add the matcha to the cream and beat until soft peaks form.
3. Then, add the sugar and continue whisking until firm peaks appear.
Method For Assembling The "Mont-Blancs":
1. Arrange the meringues on a serving platter and press the chestnut puree (with a potato press or chestnut puree press) in bird's nest shape around edge and center of the meringue shells.
2. Pipe the whipped cream on top of the puree, piling it high.
3. Sprinkle with edible silver pearls, then serve immediately.

Comments:
If your chestnut puree already contains some kirsch, then you might want to add less extra kirsch to it.
The meringues can be made a day ahead and kept in an airtight container for about 12-24 hours, at room temperature.
The puree can also be made a few days ahead and stored in an airtight container in the fridge.
The whipped cream and assembling can only be made at the last minute.

Serving suggestions:
Serve for dessert or for afternoon tea with some dessert wine, liqueur or a pot of jasmine tea.
Photo courtesy of Rosa Mayland Photography.
Author's Bio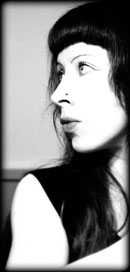 Rosa Mayland, the creator of
Rosa's Yummy Yums
, lives in a small Geneva countryside village situated in the French speaking part of Switzerland - a few meters away from the French border. She's an Anglo-Swiss food enthusiast who loves photography, loud rock or electronic music, walks in the countryside, meeting interesting people, cats, books and independent films. When she's not writing for her blog, you'll also find her over at The Rambling Epicure, a daily international food chronicle and online newspaper to which she contributes as a freelance writer.
As you can imagine, she is very passionate about cooking/baking and can spend hours surfing the net for inspiration, reading blogs, creating dishes, testing new recipes or going through cookbooks and magazines. She is crazy about flavorful and soul-uplifting grubs, spices and yummy textures, therefore she's particularly fond of Asian, Caribbean, Mediterranean, South American, Middle Eastern delights as well as regional and traditional specialities!
Rosa has kindly agreed to let us post some of the recipes from her blog on knowitall.ch. Each month we will feature a new dish from her site, but due to space limitations we will only publish the recipes listed in each blog entry. However, you MUST click on the link provided with each recipe to read for yourself the inspiration behind each of the dishes prepared by Rosa and to see the wonderful collection of photos accompanying each dish. Many of these photos have been taken at locations in and around Geneva - see if you can work out where they have been taken!