Read the full blog entry from Rosa's Yummy Yums
Today, I have decided to post an Autumn/Winter Norwegian apple delicacy that fits perfectly the season: "Eplepai". The name translates into "Apple Pie" in English, yet this speciality is rather a soft wettish cake than a shortcrust pastry-based dessert.

This Scandinavian goodie is ridiculously simple and fast to put together, nonetheless it is far from being characterless, boring or bland gustatively speaking. The warm spices pair admirably with the sweet tartness of the fruits and the toasted almonds add a gorgeously nutty note to the whole. A luscious and morish treat that is sticky, extra moist, super smooth in texture, mighty gratifying and somehow reminds me of pudding. Heavenly!

I have freely adapted the recipe from Beatrice Ojakangas' marvelous and highly recommended bestseller "The Great Scandinavian Baking Book". I operated a few small changes to it as I believed it could be slightly improved (not that it really needed any enhancement, though). My version uses ground cardamom, vanilla extract and roasted almond sticks. An addition which doesn't alter the über-nordisk and preciously old-fashioned flavors of that succulent torte.
Recipe adapted from Beatrice Ojakangas' "The Great Scandinavian Baking Book".

Ingredients:
1 Egg (63g)
2 Tbs Milk
3/4 Cup (158g) Castor sugar
1 Tsp Pure vanilla extract
1 Tsp Baking powder
1/3 Tsp Fine sea salt
1 Tsp Ground cinnamon
1/3 Tsp Ground cardamom
1/2 Cup + 3 Tbs (158g) All-purpose flour
1/2 Chopped almonds/or almond sticks (50g), toasted
3 Medium-sized tart apples

Directions:
1. Preheat the oven to 180° C (350° F), line a 18cm (7-inch) springform cake pan with baking paper and then butter it.
2. Peal, core, and dice the apples.
3. Stir all the ingredients together (the mixture will be similar to that of muffins).
4. Spread into the pan.
5. Bake for 50-60 minutes, or until browned and a toothpick inserted in the center comes out clean.
6. After 1 minutes, run delicately a knife along the side of cake to loosen, then remove from the side of springform pan.
7. Place a cooling rack upside down over the cake. Turn rack and cake over. Remove the bottom as well as the baking paper of the springform pan. Place back on the rack.
8. Cool completely before serving.

Comments:
I used Belle de Boskoop apples (my favorite eating and baking apple) for this cake, but Bramley, Reine Des Reinettes, Braeburn, Granny Smith, Gravenstein apples, etc... are also ok.

Serving suggestions:
Cut into wedges and serve with either sweetened whipped cream, sweetened thick yogurt or ice cream.
Author's Bio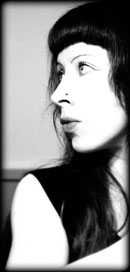 Rosa Mayland, the creator of
Rosa's Yummy Yums
, lives in a small Geneva countryside village situated in the French speaking part of Switzerland - a few meters away from the French border. She's an Anglo-Swiss food enthusiast who loves photography, loud rock or electronic music, walks in the countryside, meeting interesting people, cats, books and independent films. When she's not writing for her blog, you'll also find her over at The Rambling Epicure, a daily international food chronicle and online newspaper to which she contributes as a freelance writer.
As you can imagine, she is very passionate about cooking/baking and can spend hours surfing the net for inspiration, reading blogs, creating dishes, testing new recipes or going through cookbooks and magazines. She is crazy about flavorful and soul-uplifting grubs, spices and yummy textures, therefore she's particularly fond of Asian, Caribbean, Mediterranean, South American, Middle Eastern delights as well as regional and traditional specialities!
Rosa has kindly agreed to let us post some of the recipes from her blog on knowitall.ch. Each month we will feature a new dish from her site, but due to space limitations we will only publish the recipes listed in each blog entry. However, you MUST click on the link provided with each recipe to read for yourself the inspiration behind each of the dishes prepared by Rosa and to see the wonderful collection of photos accompanying each dish. Many of these photos have been taken at locations in and around Geneva - see if you can work out where they have been taken!