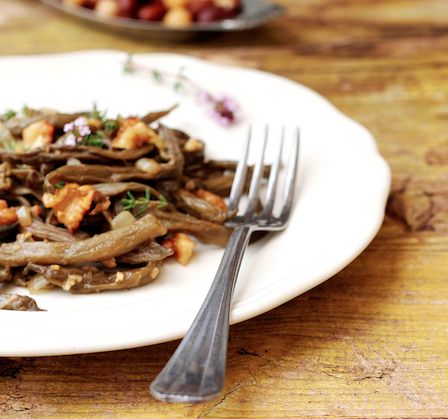 Read the full blog entry from Rosa's Yummy Yums
There is no doubt that we are what we eat and this is why it is crucial to nourish ourselves as heartily as possible. After decades of bad dieting on convenient meal products, fatty, sugary and chemical junk, the Western world is at last/suddenly waking up, becoming more conscious of its hazardous food habits and aware of how wrong it was to have chosen the comfortable path of faineancy, irresponsibility and autodestruction rather than that of harmony, reasonability and amour-propre.
I make it a point of honor to sustain myself correctly, cook with the best produces available as well as to prepare meals, which are wholesome and take into account our individual needs. Porking out rarely occurs at my home, but if ever we decide to indulge, we still do it in a thoughtful manner (no big excesses and nothing industrially produced or additive-laden makes it to our table) and exclusively on weekends.
So, when Eva Huwiler at Blofeld Communication GmbH offered me the chance to review a book about stylish vegetarian cooking, called "Tibits at home", I was totally enthralled and could not refuse her generous and enticing proposition, as the subject fits my feeding philosophy perfectly! Read my blog on Rosa's Yummy Yums to find out more!
Being part-Swiss (my father originates from Rances) and attached to the culinary customs/heritage of my homeland, I thought that it would be a good idea to showcase one of Tibits' recipes, which echoes my roots and love for rustic grub: "Dried Green Bean Salad".
Dried green beans are very common in the canton of Vaud and the Vaudois natives traditionally love to serve them with "Saucisson" (or smoked ham/lard) and boiled potatoes. It is one of my all-time favorite trimmings as it reminds me of my grandparents who never failed to serve us this family classic whenever we came over for dinner.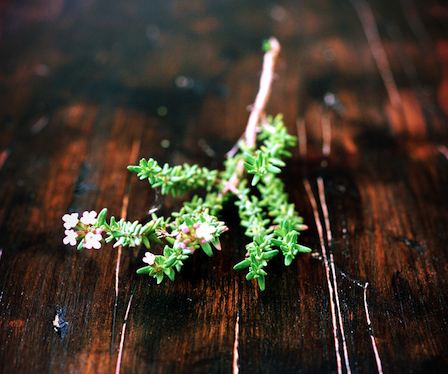 In his garden, my "pépé" cultivated green beans (plus an abundance of other vegetables and of course, lots of fruits) and sun-dried them directly on his rabbit shacks. As you can imagine, they tasted just amazing. Anyway, nowadays if you want to prepare this exquisite speciality, then you'll have no problem buying it from any supermarket across the country.
Until lately, I had always concocted my dried green beans just like my "mémé" did (rehydrated in water, then sautéed in butter with garlic and onion, and left to stew for a short while) and have rarely dined on them in any other way, so testing Tibits' "Dried Green Bean Salad" gave me the opportunity to broaden my horizon and try something completely new.
We were definitely impressed by the refinement and delectability of this magnificent salad. As I expected, the result was mind-blowing. My boyfriend P. greedily gobbled his way through his vegetables and I could not stop refilling our plates. The exhilerating aromas of garlic, onion, fresh thyme, roasted walnuts, balsamic vinegar, pistachio oil and of the greens mingled together elegantly, and the different textures (crunchy, chewy and crispy) blended magnificently with each other.
A real delight for the taste buds and a fantastic addition to any picnic, party, barbecue, lunch or brunch!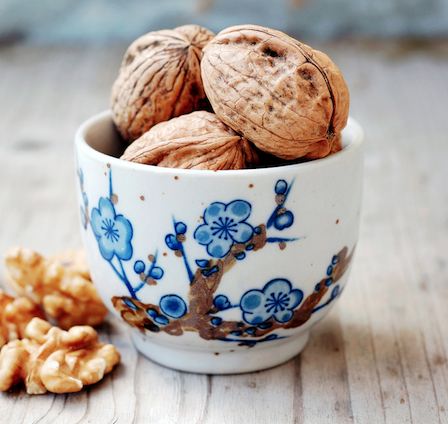 Dried Green Bean Salad
Recipe slightly adapted from "Tibits At Home".
Ingredients:
100g Dried green beans
1 Tbs Sea salt
1 Small onion, finely chopped
2 Tbs Sunflower oil
4 Tbs Pistachio oil
60ml (1/4 Cup) Vegetable stock
1 Clove of garlic, pressed
100g Roasted walnuts, coarsely chopped
4 Tbs Balsamic vinegar
A few sprigs of fresh thyme
Method:
1. Put the beans in a pot filled with cold water and add the sea salt.
2. Bring to a boil and let simmer for about 25 minutes, until tender, but firm.
3. Drain and immediately rinse under cold running water. Set aside (in a colander).
4. In a skillet or frying pan, sauté the onion in the sunflower oil for 2 minutes or until soft and translucid.
5. Deglaze with the vegetable stock and leave to cool.
6. In a medium bowl, put the beans and add the pistachio oil, garlic, onions, walnuts, balsamic vinegar and thyme. Mix well and leave to marinade for 10 minutes.
7. Serve sprinkled with a little extra thyme.
Remarks:
If you put the beans into cold water for 2 hours before cooking, they will look less wrinkly.
Remember that 100g dried beans = 400g cooked beans.
The pistachio oil can be replaced with rapeseed or olive oil, the vegetable stock with chicken stock (for non-vegetarians) and the thyme with a chopped fresh coriander.
Serving suggestions:
Serve with bread (pumpernickel, rye sourdough, whole wheat, etc...), crackers, roasted potatoes, legumes (chickpeas, lentils, cannellini beans, etc...), seared fish or grilled meat.
If you wish, you can also sprinkle some bacon bits over the salad.
Author's Bio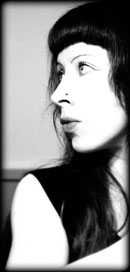 Rosa Mayland, the creator of Rosa's Yummy Yums, lives in a small Geneva countryside village situated in the French speaking part of Switzerland - a few meters away from the French border. She's an Anglo-Swiss food enthusiast who loves photography, loud rock or electronic music, walks in the countryside, meeting interesting people, cats, books and independent films. When she's not writing for her blog, you'll also find her over at The Rambling Epicure, a daily international food chronicle and online newspaper to which she contributes as a freelance writer.

As you can imagine, she is very passionate about cooking/baking and can spend hours surfing the net for inspiration, reading blogs, creating dishes, testing new recipes or going through cookbooks and magazines. She is crazy about flavorful and soul-uplifting grubs, spices and yummy textures, therefore she's particularly fond of Asian, Caribbean, Mediterranean, South American, Middle Eastern delights as well as regional and traditional specialities!
Rosa has kindly agreed to let us post some of the recipes from her blog on knowitall.ch. Each month we will feature a new dish from her site, but due to space limitations we will only publish the recipes listed in each blog entry. However, you MUST click on the link provided with each recipe to read for yourself the inspiration behind each of the dishes prepared by Rosa and to see the wonderful collection of photos accompanying each dish. Many of these photos have been taken at locations in and around Geneva - see if you can work out where they have been taken!