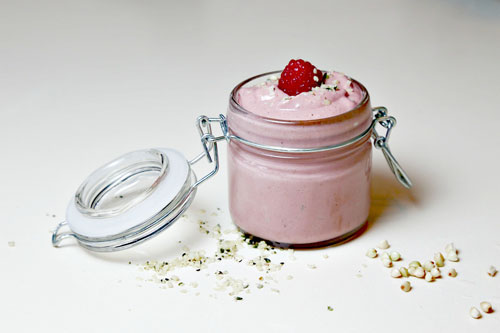 By Hiba Giacoletto, Healthwise
Something I hear often is how 'healthy' people think fruit yoghurt is. Sorry to burst your bubble but have you actually read the label on a fruit yoghurt? At best, it is loaded with sugar - at worst, lots of yucky stuff.
It is time for a really simple, delicious alternative that is free of sugar, dairy, soy and gluten!
This breakfast or snack is creamy thanks to the soaked, uncooked buckwheat and hemp seeds. It's sweet thanks to the raspberries and dried figs. And it has that little bit of tartness thanks to the lemon.
Once you have soaked everything in the evening, it takes only 5 minutes to blend everything in the morning and can keep for up to two days in the fridge.
And because of the mix of healthy fats, protein and fiber, it is filling enough to be a meal in itself.

INGREDIENTS:
1 cup uncooked, shelled buckwheat, soaked overnight
4 dried figs
300 grams raspberries (frozen or fresh)
4 tbsp hemp seeds/hearts (shelled/hulled) or cashew nuts
juice of 1 lemon or a whole 1/2 organic lemon if your blender can handle it
1/2 – 2/3 cup water depending on how liquid you like it
A small handful of fresh herbs like mint, lemon verbena or basil (optional, but adds a nice taste)
METHOD
Wash and soak the buckwheat overnight with the dried figs.
The next morning, rinse the buckwheat and figs and wash well before putting them in a blender or food processor with the rest of the ingredients.
You can add some fresh herbs if you would like a little more taste.
If you want a more chunky texture, don't blend all of the raspberries – leave about 1/3 aside and just pulse once in the end.
For the lemon, you can either use the juice or if your blender can handle it, wash an organic lemon well and put half of it whole in the mix. Most of the vitamins are in the skin and it adds even more taste this way!
This makes about 4 servings – you can store leftovers in air-tight jars/containers in the fridge so it is ready for the next morning.
Author's bio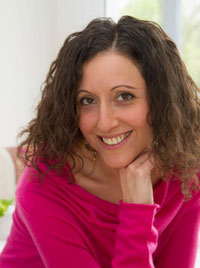 Hiba Giacoletto is a Certified Health Coach from the Institute for Integrative Nutrition (IIN) with a Masters Degree in Psychology
Hiba helps people lose weight, feel more energetic or take control of their eating without diets or deprivation. She believes that no one way of eating or living works for everyone and that it is about experimenting to find what truly works for you. She uses a unique blend of NUTRITION + PSYCHOLOGY + COACHING to help people start trusting their body's wisdom to make food and lifestyle choices that enable them to look and feel their best. She is convinced that regardless of what you might have tried in the past, she can help you get unstuck, overcome self-sabotage behavior and find your mojo!
You can book a FREE 45 minute Health Chat via her website, www.healthwise.ch to find out whether Health Coaching is right for you.
www.healthwise.ch
www.facebook.com/healthwise.ch
www.twitter.com/HibaGiacoletto
www.pinterest.com/healthwisech/