By Hiba Giacoletto, Healthwise
Have you tried whipping yourself into losing weight? Do you promise yourself every time summer comes around that THIS time, you are going to stick to the diet plan and visit the gym religiously?
If you have tried all sorts of diets, but none of them seem to work, how about trying something different? An approach based on pleasure and kindness towards yourself instead of deprivation and restriction.
Here are six healthy ways to lose weight without dieting – they may not lead to rapid weight loss, but the weight loss tends to be more sustainable.
1. Focus on what you want to eat MORE OF instead of what's off limit.
What do you want to include more of in your diet? Vegetables? Protein? Superfoods? More regular meal times? More exercise?
By adding healthy foods and habits instead of focusing on eliminating unhealthy ones, it is easier and more natural to create new habits as less healthy options are 'crowded out'.
Plus, one of the reasons diets have such a spectacular fail rate is because making food off limit is the best way to become obsessed with it.
So why not identify one small habit you would like to add to your life and start there? Start small and build up.
2. Eat as early and as light as possible in the evening
One of the ways sumo wrestlers gain weight is by skipping breakfast and having a big, late dinner right before going to bed.
If this sounds like you and you are trying to lose weight, try shifting your eating schedule to eating the majority of your food earlier in the day – this could work wonders.
Eating as early and as light as possible in the evening can help you sleep better, digest food better and wake up hungrier for breakfast, when your body's metabolism is in a better state to handle food. It also enables the liver to go into fat burning mode, a necessary state for weight loss.
3. Slow down and listen to your body
Instead of trying to limit your food, listen to your body's hunger signals.
Our bodies have an innate wisdom and eating when you are hungry and stopping when you are satisfied can boost weight loss without depriving yourself of anything.
This is exactly the opposite of dieting where we deliberately ignore cues like hunger (by limiting food or skipping meals) and satiety (especially on 'cheat days' or binges – which are always the consequence of some form of restriction).
Try slowing down and really tasting and enjoying your food. You might be surprised that you actually need less than you thought! By simply being more present to your meals, you can reduce overeating by up to 30% and you will probably have less cravings, too!
4. Bring pleasure to the way you eat and the way you move
If you force yourself to exercise or eat in a way that stresses your body, you actually produce stress hormones, which signal to the body to hold onto fat and not lose weight. So overexercising or punishing yourself with forms of exercise you hate is counterproductive to losing weight.
Move in a way that makes you feel great afterwards, that celebrates your body and everything it does for you, rather than something that feels like a punishment.
Experiment to find movement you enjoy. Experiment with healthy food. Fully enjoy EVERYTHING you eat, regardless of how 'unhealthy' it is. There is no point eating something 'healthy' you hate.
The pleasure we get from food has been shown to affect how well we metabolise food and even the nutrients we extract from it. And we can only take pleasure in something when we are present, so practise slowing down and savouring your food!
5. Be super kind to yourself
You may not be where you want to be but be honest: Has whipping yourself into shape been a sustainable solution in the past? This is your body and it deserves love and care right now – after all, does it make sense to take care of something you keep rejecting?
Treat yourself as you would a friend – if you are not able to eat or move as well as you would like, don't make it worse by beating yourself up. Guilt or feeling bad about slipping up has been shown to lead to more eating in an effort to soothe oneself.
I believe that every body is wise and that there is always a good reason we are holding on to extra weight. Be gentle with yourself as you try to uncover these reasons, and know that you were doing the best you could until now.
6. Be realistic – do you really need a 'perfect' body?
Finally, I want to urge you to be realistic. Are you willing to put in the effort and sacrifice needed for a perfectly toned body? If you are not, that is perfectly fine: Accept this and aim for something that feels more aligned with your body type and the effort you are willing to put in instead.
I used to criticise myself for not having a magazine perfect body, especially when I first started food coaching.
When I dropped the struggle with myself on this, I recognised that I do not value this enough to make the effort and sacrifices needed to get there. It doesn't feel kind to myself to spend hours 'sculpting' my body because the outcome (a perfectly toned body) isn't important enough for me.
Once I accepted this, I was able to put my energy into nourishing myself with vibrant food that I love and moving my body in ways I enjoy instead of beating myself up about this. I focus on how I feel in my body and how my body supports me in doing what matters to me in life, rather than treating it as a clothes hanger that needs to look a certain way to be acceptable.
I hope this kinder approach to weight has been helpful. As you get started, you could try asking yourself:
What weight loss goal feels most sustainable, realistic and kind for you?
How much effort are you willing to put in for what result?
How can you start with kindness towards yourself as a way of reaching your weight loss goals?
If you would like to find our more about my individual sessions around weight loss in Geneva, including an emotional exploration of why you might be holding on to the extra weight, book a free 30 minute Skype call at www.healthwise.ch to find out whether my approach is right for you.
Author's bio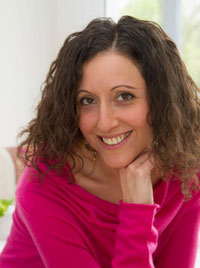 Hiba Giacoletto is a Certified Health Coach from the Institute for Integrative Nutrition (IIN) with a Masters Degree in Psychology
Hiba helps people lose weight, feel more energetic or take control of their eating without diets or deprivation. She believes that no one way of eating or living works for everyone and that it is about experimenting to find what truly works for you. She uses a unique blend of NUTRITION + PSYCHOLOGY + COACHING to help people start trusting their body's wisdom to make food and lifestyle choices that enable them to look and feel their best. She is convinced that regardless of what you might have tried in the past, she can help you get unstuck, overcome self-sabotage behavior and find your mojo!
You can book a FREE 45 minute Health Chat via her website, www.healthwise.ch to find out whether Health Coaching is right for you.
www.healthwise.ch
www.facebook.com/healthwise.ch
www.twitter.com/HibaGiacoletto
www.pinterest.com/healthwisech/