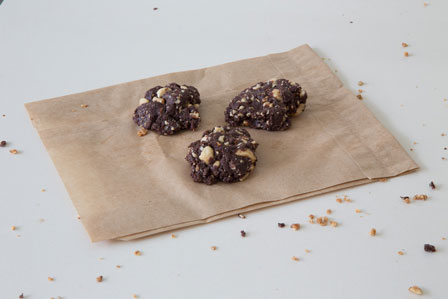 By Hiba Giacoletto, Healthwise
These cookies are a healthier Nutella in cookie form made using just three ingredients: Hazelnuts, cacao powder and maple syrup. It is a darker chocolate adult version that loses the milkiness but keeps the hazelnut/chocolate combination and adds some crunch from the roasted hazelnuts.
These cookies are very simple to make but you will need a good food processor and as there are so few ingredients, try to buy the best quality you can find.
INGREDIENTS
2 cups or 300g hazelnuts
3 tbsp maple syrup
3 tbsp cacao powder (full-fat and unsweetened)
a pinch of salt

METHOD
Heat your oven to 140 degrees Celsius.
Measure 2 cups or 300g hazelnuts and place on a tray in the oven for about 20 minutes or until they are evenly roasted. Remove from the oven and rub the hazelnuts between your hands to remove any loose skins.
Once they are completely cool, place them in a food processor. Now this is where you have to be careful! To start with, only pulse the hazelnuts a few times so that they are ground but not too finely. They will probably not be even so you will have some bigger pieces of hazelnuts than others which is fine. Take out 120 grams and place in a bowl.
Grind the rest of the hazelnuts until they are liquid. This should take about 1-2 minutes and you may need to stop and scrape down the sides a few times.
Add maple syrup, cacao powder and salt. The maple syrup will cause the hazelnut butter to 'curdle' and become solid – this is what we want! Blend to combine then pour the mixture in the bowl with the chunky hazelnuts. Combine well with your hands then form cookies and place on a tray with a baking sheet. Bake at 140 degrees for about 15 minutes. Take them out and leave them to cool on the tray before removing them.
Author's bio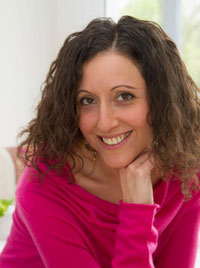 Hiba Giacoletto is a Certified Health Coach from the Institute for Integrative Nutrition (IIN) with a Masters Degree in Psychology
Hiba helps people lose weight, feel more energetic or take control of their eating without diets or deprivation. She believes that no one way of eating or living works for everyone and that it is about experimenting to find what truly works for you. She uses a unique blend of NUTRITION + PSYCHOLOGY + COACHING to help people start trusting their body's wisdom to make food and lifestyle choices that enable them to look and feel their best. She is convinced that regardless of what you might have tried in the past, she can help you get unstuck, overcome self-sabotage behavior and find your mojo!
You can book a FREE 45 minute Health Chat via her website, www.healthwise.ch to find out whether Health Coaching is right for you.
www.healthwise.ch
www.facebook.com/healthwise.ch
www.twitter.com/HibaGiacoletto
www.pinterest.com/healthwisech/