By Hiba Giacoletto, Healthwise
If you love Nutella, why not trying making a healthier version at home? This recipe is a much healthier version of store-bought Nutella, using only whole foods like hazelnuts and cacao powder and sweetened with a little maple syrup – an unrefined sweetener.
The main ingredient in this recipe is hazelnuts. Hazelnuts are a good source of Vitamin E as well as iron, zinc, calcium and potassium. And because they are made up of 60 – 70% oil, when you whizz them in a food processor for just a minute or two, they quickly turn into a beautiful, creamy spread. To this, we add the cacao powder, melted cacao butter or coconut oil plus a little maple syrup – and voilà – you have your healthier Nutella or Healthtella!
Method:
Heat your oven to 135 degrees Celsius.


Measure 1 cup or 200g hazelnuts and place on a tray in the oven for about 20 minutes or until they are evenly roasted.


Remove from the oven and rub the hazelnuts between your hands to remove any loose skin.


Once they are completely cool, place them in food processor and grind them until they are liquid. This should take about 1-2 minutes and you may need to stop and scrape down the sides a few times.


Once your hazelnut spread is ready, add the following:
- 25g melted cacao butter OR melted extra virgin coconut oil
- 3-4 tbsp water
- 4 tbsp maple syrup
- 2-3 tbsp cacao
Mix everything until it is well combined and you have achieved the right taste and consistency. Store in the fridge but take it out a little before you eat it so it becomes less solid.
Author's bio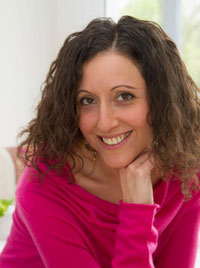 Hiba Giacoletto is a Certified Health Coach from the Institute for Integrative Nutrition (IIN) with a Masters Degree in Psychology
Hiba helps people lose weight, feel more energetic or take control of their eating without diets or deprivation. She believes that no one way of eating or living works for everyone and that it is about experimenting to find what truly works for you. She uses a unique blend of NUTRITION + PSYCHOLOGY + COACHING to help people start trusting their body's wisdom to make food and lifestyle choices that enable them to look and feel their best. She is convinced that regardless of what you might have tried in the past, she can help you get unstuck, overcome self-sabotage behavior and find your mojo!
You can book a FREE 45 minute Health Chat via her website, www.healthwise.ch to find out whether Health Coaching is right for you.
www.healthwise.ch
www.facebook.com/healthwise.ch
www.twitter.com/HibaGiacoletto
www.pinterest.com/healthwisech/